27 BEST Gifts For MOMS [2023]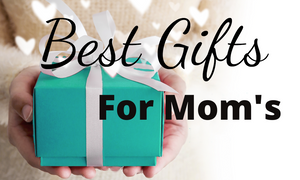 Here are the best gift ideas for your mom. If you are looking for the perfect gift idea for your mom, you have come to the right place.
We have carefully gone through many shops and online stores so you can pick out something fabulous and amazing for your mom.
In this guide called Best Gifts For Moms, we have found great wellness gift ideas for mom's who need some extra TLC, some great kitchen gift ideas that would make great gifts and even some stationery and garden ideas. 
There is something for every mom's taste.
Mom deserves the best. So when you need to find the perfect gift idea for her birthday, Mother's Day, Christmas or holiday season, bookmark this page and keep checking back because we'll keep updating this gift guide with amazing mother gift ideas from daughters!
BEST GIFTS FOR MOMS
1. Opal Diamond Moon Necklace
For those who can splurge for a luxury classic gift, check this gorgeous necklace out. For many mothers, jewelry is the perfect gift. It's thoughtful, personal, and it shows that you took the time to choose something special.
This Etsy shop is our top pick! Each piece is handmade to order with love. 
2. Custom Kitchen Towels
When it comes to finding personalized gifts, nothing says "I love you" quite like a custom hand towel with mom's favorite recipe. After all, what could be more thoughtful than a gift that celebrates mom's love for cooking?
Not to mention, a hand towel with mom's recipe is sure to come in handy in the kitchen. A well-crafted gift like this is sure to put a smile on mom's face, and it will definitely show her how much you care.
3. Professional Manicure Set
If your mom loves to do her manicures herself, she will fall in love with this professional manicure set. She can buff, prime and get her nails perfect right at home!
This is a high-end stainless steel set that comes with everything she needs for a perfect mani or pedi. Sugar Me Beauty has lots of nail art resources for mom's who love to DIY their nails.
What we especially love about this set is the sanding bands that removes dry skin and calluses so her feet will look and feel amazing.
4. NOW Essential Oil Sets
If your mom loves the soothing aroma of essential oils then she will love this gift! It's important to remember that if you are ever thinking of buying essential oils as a gift, please make sure you are buying them from a reputable company.
There are many fake essential oils out there. The fake ones always smell not quite right. That's why we always recommend NOW products.
They have been around since 1968 and their mission has always been to provide value in products and services that empower people to lead healthier lives. Their oils are pure and your mom will love this set so that she can make her own custom blends.
Grab our free list of best essential oils blends for the bath to help with some nice pairings.
5. Essential Oil Diffusers
If you get the set of essential oils, then you might want to present them with this sleek diffuser. Any mom who loves essential oils would be thrilled to get this gift from her daughter.
These would make a great Mother's Day gift to help promote relaxation and wellness for your mom.
6. Cozy Blankets
On those cooler spring nights, nothing sounds better than putting on some soft music and reading a favorite book to soft candlelight.
Ultra-soft throw blankets make such a thoughtful daughter gift for your mom! Especially on those special movie nights together.
7. Memory Foam Pillow 
Give your mom the gift of the ultimate beauty sleep with this dreamy pillow. The case is made with a blend of bamboo that gives the pillow breathability and softness.
This company also has a guarantee. If your mom doesn't fall in love with her pillow within 100 nights, they will refund. But they are sure that she will and so do others, they are racking up positive reviews!
8. Instant Pot Smart Cooker
These make such great gifts because they are so fun to use and make cooking and baking a breeze. If your mom or mother in law loves to cook and bake she will absolutely love to try an Instant Pot and their easy to use controls.
This one is the wifi version and comes with so many features that just beg for playing with because she can use it with her phone or tablet. Just download the app for access to over 1000 recipes!
9. Set Of Mixing Bowls
Porcelain mixing bowls are a great gift for those moms who like kitchen aesthetics.
This gift set can be used as stylish serving bowls, or for soups, salads, pasta, and more. Wouldn't the large blue bowl look amazing with fresh lemons in it? They are also great for whipping up a favorite batch of banana bread.
Yum.
10. A Danish Dough Whisk & Bread Lame
If your mom loves to fill the house with the unforgettable aroma of homemade baked bread then she will love this bread making set.
These are the tools that she will use to blend all of the ingredients together and cut perfect impressions into her artisanal bread.
11. Gourmet Salts For Your Mom
Salt is one of the most versatile and essential ingredients in any kitchen. It can be used to enhance the flavor of food, or to create unique flavor combinations.
A gourmet salt sampler set makes an excellent gift for any budding chef or foodie in your life. With a salt sampler set, they'll be able to experiment with different types of salt.
12. Russian Piping Tips
If your mom loves to decorate, then treat her to the best selling Russian piping tips. This decorating set has everything your mom needs to decorate cupcakes, cakes, & cookies.
The tips are made from stainless steel so they are very good quality. Your mom will be creating masterpieces in no time at all! And hopefully, you will get to sample her tasty bites!
13. Tombow Brush Pens
If you want to splurge on some of the best markers out there, then your mom will absolutely love this set of brush pens. We have this set here at DIY Craft Club and use them for a ton of tutorials & DIY's.
This set comes with all the colors she needs to get her doodles perfect. If she loves to draw in her planner or loves to color, she will love these!
Check out the video on our YouTube channel how to use Tombow Brush pens as watercolors.
14. Legend Planners For Mom's Who Plan
If your mom loves planners and pretty stationery products to help plan her days, she will love these planners.
These hardcover planners will help her plan with intention, and keep everything organized.
15. Personalized Charcuterie Boards
What about a personalized charcuterie board from Left Coast Original? You can select your color and size to make it a perfect gift for your mom. This shop makes their original handmade designs in their  workshop in Largo, Florida. Buyers are raving about their quality and customer service.

"Every bit of our little shop bears the stamp of careful, personal attention from our family to yours."
16. Personalized Stationery
Minted features unique designs from independent artists and creators. They have the most luxurious papers and full-color printing techniques to make your mom's gift truly one of a kind.
With many gorgeous designs to choose from, they can all be customized with your mom's name. Cool huh! These can also be used for DIY cards and family photos which is a good choice for a sentimental mom.
17. Artistro Markers
For mom's birthday, why not get her a set of metallic markers? She can use them to write out special messages on cards, or to decorate her favorite picture frames.
Not only are metallic markers stylish and unique, but they're also versatile and easy to use. Plus, they come in a variety of different colors, so mom can choose the perfect set to match her personality.
If you're looking for a thoughtful and personalized gift idea, then consider giving your mom a set of metallic markers. She'll love using them to brighten up her every day!
18. Live Succulents Will Make A Great Gift For Your Mom
Succulents are one of those plants that people just love because they are so easy to look after.
If you are in love with these cute little plants too, then you will be pleased to know that they are available to purchase online, any time of the year!
Thankfully there's quite a good selection of companies that are selling succulents online.
19. Grow Lights For Herbs & Plants
These are a great choice for moms who love to grow herbs and flowers during the winter and need an extra lighting boost.
Indoor grow lights have a full spectrum simulator to keep plants like succulents, herbs, and leafy vegetables healthy.
20. DIY Handmade Soap Sets
Has your mom ever mentioned that she would like to try to make her own soap? Now she can! This DIY soapmaking kit comes with everything she will need to make her own natural soap.
We have worked with this company before and have tried out their goats milk soap and it was so much fun. Watch the video below on our YouTube channel to see exactly what comes in these kits. They also have bath bomb kits so that you can make your own bath bomb recipes.
21. Handmade Soap On Etsy For Mom's
Shop For Handmade Soap Sellers
Make your Mom's day extra special everyday with a fresh bar of artisanal soap from these Etsy shops.
She'll fall in love with these bath and beauty products. There's something so special about soap that has been made from scratch isn't there?
22. Custom Handmade Bird Carvings
If your mom loves birds, then Northwood Carvings might have something unique and thoughtful for your mom. 
These adorable handmade wood carvings would look cute on her desk or nightstand. They are all hand-carved from scratch making them truly original.
Their customers are raving: "This piece is absolutely beautiful. It will be cherished in our family for decades to come. I am super happy and I will not hesitate to buy from this unique shop again. Thank you!!" 
23. Custom Mugs With Your Own Photo
Little Gem Girl makes the most amazing custom pendants and giftables. And their positive feedback keeps growing and growing as they dazzle their customers with their fabulous customer service and quality.
These would make such a thoughtful gift from a daughter to her mom with a photo of the two of you.
24. A Kindle
A Kindle is a perfect idea if your mom loves to read on the go or if she travels. She can read her favorite books anywhere and keep them all stored for when she's ready to relax, waiting for her appointment, or on the plane.
This tucks away easily into a handbag or backpack and doesn't take up too much room.
25. Audible Membership For Your Mom
You can give your mom the gift of an Audible membership.
The Kindle above also pairs the with Audible via Bluetooth-enabled speakers or headphones. 
You can choose 1, 3, 6 or 12-month membership options, and trust me, this gift is perfect for mom's who love to listen to audiobooks. 
26. This Custom Star Map
Check Prices On Online Star Map
We love these custom star maps and they make a great gift idea for your mom because you can enter a special date that will show how the stars were aligned that day.
She will have this piece of art forever to hang in her bedroom, office or anywhere in the house! You can enter in your birthday, a special moment, a trip you went on. There are so many ways you can customize a map just for her. 
27. Handmade Ceramics by Danuta Loane
Check out this video on our YouTube channel to see exactly what they look like.
MORE HELPFUL GIFT GUIDES
Best Gifts For Mom's Who Journal And Write
We hope you found something perfect for your mom today! What is your favorite item on this list?
Please save this Pin to your board so you can find us again later when you are searching for the perfect gift idea for your mom.
Leave a comment
Comments will be approved before showing up.