21 Best Stationery Gift Ideas [2023]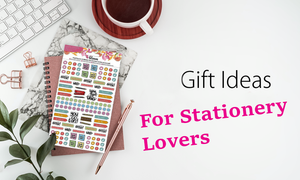 Here are the very best gifts to give to the person in your life who loves stationery. Going through planning and stationery supplies is so much fun. 
This stationery gift guide includes stickers, decorative tools, washi tape and more. This stationery list will help you find the perfect gift idea.
If you are reading this right now, you are starting your search for the best planners and products for that someone in your life who could use a little something special for their day to day planning. So today is a great day to go through this list and grab some new and exciting planning products.
This planner and stationery gift guide will be updated regularly so you can come back here to find the best planner products and gift ideas for that person you know who loves to be organized and plan out everything. 
Let's go through these amazing gift ideas together.
BEST STATIONERY GIFT IDEAS
1. STATIONERY STICKERS
Planner Kate has mini kits, stickers, planner doodles, washi tape and more. If you are looking for some amazing gift ideas for the planner in your life, then you are going to absolutely love this shop on Etsy.
Check out their large selection of colorful script stickers. With over 1M sales, you can't go wrong with anything from this shop. They are one of Etsy's top sellers.
2. LIFE PLANNERS
This luxury planner has a beautiful rose gold soft cover made from animal-friendly leather, with artwork & affirmations. This planner is great for entrepreneurs, professionals, college students and everyone who has a burning desire to turn dreams into reality. 
The design of this planner is based on studies that are proven to increase productivity & happiness. 
There is a vision board to help you stay focused, morning & evening power questions, mind maps, reflection pages, habit trackers, back pocket, gratitude journal and more. So if you like everything ready to go, it's all in here.
3. STATIONERY GIFT BOXES
This Etsy shop has many fabulous listings that make great planner gifts. They have gifts boxes, stickers, notebooks and more. This planner box would be especially lovely for a planner gift idea for that someone special. 
A customer favorite is their foiled stickers and planner pages that are functional and pretty.
4. LEMOME PLANNERS
This is a one year planner that is sure to please anyone who loves stationery. You can choose a 5x8 or 8.5x11 inch so it is perfect for either on the go planning or a desktop planner.
This planner features 12 months of monthly and weekly pages for easy year-round planning. The durable soft faux leather cover is environmentally friendly and has a soft touch, with a simple and elegant design. 
Each monthly spread contains an overview of the month and a notes section. We love their customer service! You get lifetime support and if you have any quality issues, they will get back to you very quickly.
Here's a list of some of the top selling Lemome planners.
5. DELUXE LEGEND PLANNERS
The ultimate planner for keeping your life planned and organized. The positive reviews keep pouring in for these deluxe planners. The journaling community loves this planner company and how they keep your life on track. 
Legend Planner will help you to figure out what you really want in life, create your personal vision, define and break down your short and long-term goals, and incorporate them into each area of your daily life.
6. STATIONERY GIFTS
Stationery products and gift ideas that will make anyone who loves to plan totally happy. They design and create personalized stationery for planners, weddings, events and more.
And they have the most lovely Japanese inspired gift boxes that any planner would go crazy for.
7. DOTTED GRID NOTEBOOKS
Any planner will just love these natural cork covers. It feels soft and supple to the touch like leather, but it is 100% cruelty-free and so much better for the environment. Great gift for any vegan.
This bullet journal is also thread-bound so it will lay perfectly flat. Anyone who loves to bullet journal will appreciate the quality of these books.
Lemome really steps it up when it comes to their papers in their journals, they use high quality, acid-free writing papers, which are environmentally friendly, recyclable, pollution-free, and the color of the paper is easy on the eyes.
8. PERSONALISED NOTEBOOKS
This shop features gorgeous artwork on the covers of their notebooks. They are perfect for travel or putting them into your purses and handbags. These make a perfect gift for someone who loves to write and draw.
9. STATIONERY GIFT SETS
Cuteness alert! These cute stationery gift sets will make any planner lovers day especially if they love handmade items.
Planners can use these to include in their planners and bullet journals and to send out notes to loved ones. Anyone who appreciates stationery gifts will fall in love with these immediately.
10. SAKURA PIGMA MICRONS
The Sakura Microns are known for their smooth and crisp ink lines. They are used for fine details when drawing doodles and writing.
They don't smear and they last a long time before running out of ink. This is the ultimate gift idea for any stationery lover. We use these all the time in our how to draw tutorials.
These leave very minimal ghosting on the other sides of the paper so they are great for notes and also linework for doodles.
11. COLORFUL MILDLINERS
This colorful marker set comes with lots of fun colors for planners &stationery. It's easy to color code notes & doodles, and color in all of the important dates with different color combinations. It makes a very lovely gift.
The highlighters in this set are smudge free and very quick drying which is very important to people who love stationery products. They can use these to write and draw in their journals & for bullet journaling.
12. BRUSH PENS
This shop is packed full of amazing gift ideas for planners that are super affordable. They have everything from markers to notebooks.
If you are looking for something that you are not going to find anywhere else, then this is the shop for you because they have lots of unique gift ideas to choose from. These markers not only make great gifts for stationery lovers, they can also be used to manga and anime art.
Check out our review video using some of their markers.
13. GELLY ROLLS
Gelly Rolls are just one of those classic basics that everyone should have in their pen stash. They are opaque and are for dark papers and for writing on dark-colored washi tape.
Gelly Rolls come in many different colors and this set would make anyone who loves stationery extremely happy.
14. TOMBOW DUAL BRUSH PENS
Another staple which makes a great gift idea for any stationery lover. These brush pens are for fine art, brush lettering, faux calligraphy, illustrations, watercolor illustrations, journaling and more! 
Brush pens are flexible so they create medium or bold strokes by changing brush pressure. This set is non-toxic and the tips are self-cleaning after you use them for blending.
Just a great marker set for anyone who loves to plan, color and doodle. I use the sets that we have here every day. We have a ton of these but for starters this set below is perfect.
Watch this video on the DIY Craft Club YouTube channel to see exactly what you can do with this set.
15. SHARPIE PAINT PENS
Customers are really falling for water based paint pens for their planners and journals. They are bold and bright and leave barely any ghosting on the other side of the paper.
The water-based markers are good to use on paper because they dry very quickly.

16. BLOOM DAILY STICKER SHEETS
This set comes with 390 stickers and includes vacation, travel, weekend and birthday/party-themed stickers. This brightly colored sticker pack also includes a good variety of hand-drawn elements and trendy icons like cacti, donuts, unicorns and much more. 
There's a ton of goal setting, deadline filling in and don't forget stickers which I like. Overall, this set has a great variety.
17. PLANNER GIFTS
Here are some incredible stickers sets for a great price. This Etsy shop offers so many stationery gift sets that make fantastic gifts for Christmas, Mother's Day and just because.
18. WASHI TAPE SET
This set of washi is colorful and dreamy. It's designed with harmonized colors and patterns and comes in a huge set. You will have lots of tape for decorating your planners & bullet journals.
This makes a great gift for stationery lovers.
19. WASHI TAPE GIFT SET OF 32
I like this set a lot because the washi tape is only 3mm wide (very narrow) so they are perfect for borders. It's super easy to highlight those important dates in your planners and bullet journals. You get a good variety of designs and elements in this pack too, it comes with 32 rolls of a nice mix of geometrics, shapes, and patterns.
20. PLANNER MARKER SETS
We have worked with brand many times and love their markers. Their marker sets make a great gift for someone who loves to draw and doodle in their planners. Just make sure that you are getting the non alcohol sets.
The alcohol based sets are not mean to use on regular paper and will bleed through the pages.
21. STATIONERY STORAGE CASE
And finally to keep all of your planning haul together, here is a storage case by Me & My Big Ideas. This case has lots of room and pockets to hold your planner's pens, washi, and accessories all together.
Perfect for when you are on the go. This carrying case is 11.9 x 10.2 x 3.2 inches so there is plenty of room.
We hope you found some great gift ideas for the planner in your life. Please Pin our article to your Pinterest boards if you found it helpful. 
MORE ARTICLES
Best Drawing And Illustration Tools From Arteza
Leave a comment
Comments will be approved before showing up.