14 Best Gifts For People Who Journal [2023]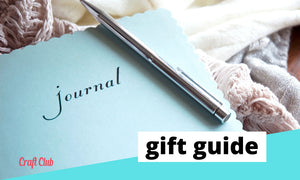 Here are the best gifts for people who journal and write. Do you often see someone writing in their journal or planner? If you are looking for some great gifts for someone who loves to write and journal, you have come to the right place!
This is a helpful gift guide for all of the people who love to plan, do bullet journaling and write. We are also planners, so we use many of these journaling items regularly, and these bullet journal gift ideas and journaling gift ideas are sure to make journal lovers happy.
If you have a loved one or friend who loves to take mindful notes and write down daily journal entries, you will find some great ideas here for them, including:
Bullet journal gifts and bullet journal supplies
Notebooks (some with a pen loop)
Custom gifts
The best pens (including brush pens and gel pen types)
Washi tape
Fountain pens and fine tips
Brush pens for modern calligraphy and all types of art
And so many more gift ideas that will just make the journaling experience an enjoyable hobby that will be sure to become a personal favorite.
Here are some of the most unique gifts for journal lovers or anyone who loves writing and journaling!
Gifts For People Who Journal & Write
1. Sakura Pigma Microns For Writing
If you are looking to really spoil someone with the best gift idea, then get this set! The Sakura Pigma Microns are what we use here and these are our go-to pens for planners, and journal lovers will love this one.
This particular set comes with all of the microns you will ever need like the fine liners, brush tips for hand lettering, and assorted colors. These are great to use in bullet journal notebooks.
These are the exact pens that we use in our how to draw tutorials on our YouTube Channel. Aren't these great journaling gift ideas?
2. Custom Junk Journal
A custom junk journal is the perfect gift for anyone who loves to journal. Each journal is one-of-a-kind, and filled with unique and interesting pages.
From beautiful patterned papers to vintage bookplates, each page is carefully curated to create a one-of-a-kind journal that is sure to be cherished. Junk journals are also highly customizable, so you can create a journal that perfectly suits the recipient's style.
Whether you choose to add personal photos or special mementos, a custom junk journal is a truly unique gift that is sure to be loved.
3. The Five Minute Journal Gift Idea
If your planner wants to get into writing but doesn't know how to begin or what to write about, then this is what they need.
This book uses mindful notetaking and focuses writing on the good things in their life. This book is great for focusing on happy thoughts and will help with writing through prompts.
4. Leuchtturm1917 For Journaling
The paper is 80gsm so if you are using Sakura Micron pens, you won't have any ghosting. This journal opens flat for easy writing and if your loved one likes to clip recipes or insert notes or stickers, the elastic band will keep everything in place nicely.
This journal is lined so they can write until their heart's content. This notebook is of really good quality too, so anyone can easily take it with them and just throw it into their purse or handbag without a problem.
5. Tombow Dual Brush Pens
Looking to splurge on a gift set for a planner? This is the must-have set that can be used for adding fancy elements and notes into journals. What is really great about these is that they normally don't ghost through bullet journals or planners that are 80gms and above.
We use these all the time in our tutorials and they can be used for adding watercolors into a journal too.
There's a great tutorial on how to use Tombow Brush pens as watercolors that you might want to check out.
How to use Tombow Dual Brush pens video
6. Planner Stickers For A Journal
Sticker packs are a perfect gift for someone who loves to journal and write. These come in florals, emoji's, food, happy life, inspiration words and more.
You can use stickers to enhance the mood of one of a journal entry or to remember a favorite time.
7. Washi To Decorate Journal Pages
Washi tape is a good choice of gift for anyone who loves pretty things and crafting. Its delicate designs and cute colors will make any crafter or journal-keeper smile with delight.
Unlike other types of tape, washi tape can be removed and reused without leaving any sticky residue behind. This makes it ideal for creating patterns and embellishments in journals and other notetaking ideas.
Anyone who loves to write and journal needs some pretty washi tape for their journaling accessories. Washi tape can be used in many ways for journaling but our favorite way is to use it as page markers.
You can use these fancy tapes in any kind of bullet journal or notebook.
8. Thin Washi Tape For Journal Borders
Here's another set of washi tape in a thinner size. And because it's so easy to use, it's a great way to add a personal touch to any journal entry.
So if you're looking for a unique and stylish gift for someone who loves pretty things and writing in their notebook or travel journal, look no further than washi tape!
This washi tape is only 3mm wide (very narrow) so this cute set is good for borders and lines. It's super easy to highlight an important moment in a journal.
They offer a good variety of designs and elements in this pack too. It comes with 32 rolls of a mix of geometrics, shapes, and patterns. A perfect gift.
9. Convertible Backpack For Supplies
This beautiful and well made tote will fit a stationery stash and more! Perfect for on the go and totally comfortable if they need to take it to a game or on a trip.
You can transform this backpack into a tote by simply unhooking the straps and tucking them into the back panel. If you want to splurge on a gift for a writer, this will be perfect. 
10. Dotted Grid Notebook
If your person likes to draw and doodle, you will want to grab them a dotted notebook. This is called the bullet journal method of note taking and doodling.
Bullet journal notebooks are very popular among bujo lovers! If you get one of these, be sure to let them know that YouTube has a ton of bullet journal ideas to try like Amanda Rach Lee. Join the bujo community!
The bullet journal community are a tight knit group across YouTube and the socials who love to share ideas. It's a great place to start off if your friend or loved one doesn't have one yet, and getting a high quality bullet journal makes a big difference when you feel that thick paper.
These bullet journal notebooks comes in a standard A5 size (5 x 8.25 inches) so it's easy to carry around.
Bullet journal gift ideas are always sure to please, even if your doodler has one, you can never have too many as a bullet journal lover.
11. Pitt Brush Pens For Journal Entries
Faber-Castell is a very well-known name in the artist community, as they are known for providing quality art products and specialty pens. These can be used to draw or doodle in a bullet journal and is a fantastic gift for a journal lover.
Pitt Artist Pens are truly an amazing gift idea as they offer odorless, permanent and waterproof inks in vibrant colors that they say will not bleed through paper.
This set is a great gift and also made our list of the best art markers for beginners.
12. Legend Planners
The ultimate planner for people who love to write. The journaling community loves this planner company and how they keep your life on track. 
Legend Planner will help you to figure out what you really want in life. You can create your personal goals and define your short and long-term goals.
13. Personalized Notebooks
Here is a beautiful Etsy shop that features gorgeous artwork on the covers of their notebooks.
They are fabulous for travel or putting them into your purses and handbags and any avid journaler would love to have this. They can use it by adding photos next to their entries or for those special moments to remember.
These make a great choice for someone who loves to journal and plan and also made it into our guide of stationery lover gift ideas too.
14. Gelly Rolls Pens
There's something about gel pens that just makes writing in a blank journal more fun. These are journaling supplies that you need to have on hand.
Maybe it's the way the ink glides across the paper, or the bright colors that add a touch of personality to your work. These are great for bullet journal lovers or just for your general journaling supplies.
Whatever the reason, Gelly Roll gel pens are a great way to spice up journal writing and add to your notebook and bullet journal accessories.
A gift means so much more when it is given with love and thoughtfulness.
Here are 3 ways to make a gift more special:

1. Put some extra effort into the wrapping.
There's something extra special about a gift that's been wrapped with care. It shows that the giver took the time to not just choose the perfect present, but to also make it look stunning.
Of course, this takes a bit more time and effort than just throwing the gift into a bag, but it's worth it when you see the look on the recipient's face. So next time you're looking for a way to make your gifts even more special, don't forget the power of careful wrapping.

2. Incorporate the recipient's interests into the gift.
For example, if they love a certain animal or plant get them a matching sticker set.

3. Add a personal touch.
Write a heartfelt message or include a photo that is meaningful to both of you that they can insert into their journal or bullet journal.
It's personal and intimate, a way to connect with the recipient on a deep level. The thought and care that goes into choosing the perfect words to express your love and appreciation makes the gift all the more special.
And when you take the time to write a heartfelt message, it shows how much you care.
We hope this list helped you with some good ideas for that person who journals.
If you found this article helpful, please Pin it to your board so you can remember to come back again later.
More Helpful Articles
Leave a comment
Comments will be approved before showing up.