13 BEST Gift Ideas For Bakers | Here's What They Will LOVE [2024]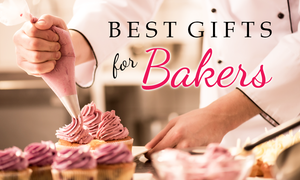 Welcome to the only gift guide for bakers that you will ever need. We had so much fun gathering ideas for this list. This guide has some pretty amazing gift ideas for that person in your life who loves to bake.
What's the best thing about giving a perfect gift to someone who is obsessed with baking?
When they pay it back to you with yummy, delicious, fresh baked goods of course! For people who bake, just the thought of a new tool or ingredient will send them heading to the kitchen faster than you can say cupcake. Oh yes, bakers are like that.
This gift guide will help you get a perfect something for the holidays, birthdays, Mother's Day, Father's Day and any other day when something totally unique and special is needed for any baker.
As seasoned baker's ourselves, we love receiving thoughtful gifts. And we also like discovering a perfect gift for our fellow friends who are also bakers. We are a pretty easy bunch to please.  You don't have to spend a ton of money on gift ideas for the baker in your life either. In this gift guide, we will cover low-cost items as well as gift ideas for those who have unlimited spending. There's something for everybody here in this gift guide list. And we promise not to overwhelm you, which is why we sat down and discussed and narrowed it down to only the best. So this is a very thoughtfully created gift guide.
Let's dive in to help you find the BEST gift ideas for that baker in your life!
BEST GIFT IDEAS FOR BAKERS
$10 - $30 budget for gifts
1. Embossed Rolling Pin For Bakers
This embossed rolling pin has so many uses. Bakers can use it for their cookies, pie crusts, fancy pastry decorations, biscuits, and more. We love how versatile this is and so will your baker. Just think of the cookies that will be coming out of their kitchen. This rolling pin is also super easy to clean, simply run it under warm water and let air dry. If you are giving this as a gift to the baker in your life, wrap it up like a large bonbon with tissue and ribbon on each end!
2. Fancy Liners For Baking Cupcakes
These are a perfect gift idea for a baker. Especially someone who loves to make cupcakes and muffins. These floral cupcake liners give us all the feels. This is a mixed set so your baker will have lots to choose from. And if your baker loves to make baked goods for parties, weddings, or baby showers, their baking will be the star of the show. The inks are printed on with edible soy ink that is food grade. And unlike some liners, these hold their colors beautifully and don't fade during the baking process.
3. Russian Piping Tips For Decorating
This wouldn't be a baking lovers gift guide without this set of Russian piping tips. This amazing set has everything your baker needs to start decorating cakes, cupcakes, muffins, and cookies. This piping set has been featured all over Instagram and will be one of your favorite gift ideas. The tips are made from stainless steel and very good quality. Your baker will be creating masterpieces in no time at all! If your baker has a small business or just makes their baking for friends and family they will definitely love this set for a gift. Keep in mind that the box that it comes in is not really made to be a storage box so you might want to pick up something else for them to keep this set in.
4. Copper Measuring Spoons For Baking
These copper measuring spoons are just gorgeous and would make a perfect gift idea for that baker in your life. They have a polished copper finish and are perfect for dry and liquid ingredients. Their slim shape makes it easy to get into narrow jars and small spaces. And another reason why we love these so much is that they are very sturdy and durable. The measurements are stamped right into the stainless steel so that it will never wear off. Be aware that these are a luxurious item and must be hand washed.
5. Copper Measuring Cups For Baking
If you are grabbing the copper measuring spoons above then you might want to grab this matching set of cups. This set of beautiful measuring cups makes such a great gift for your baker because they are made of a heavy gauge polished stainless steel. The top is flat so it's easy to level the dry ingredients. The measurements are also stamped right in just like the spoons, so they will never ever wipe off. And there's a small knob on the outside of the cups that allows this measuring set to neatly nest inside each other. We also like that they are made from one solid single piece so that the handles don't break off. That always seems to be a problem with some measuring sets. These are some of the most beautiful tools for the kitchen that we have come across. Hand wash only.
$35 - $50 
budget for gifts
6. Personalized Baker's Necklace
How adorable is this cute little bakers necklace and charms? This necklace is silver plated and is handmade by Smitten Kitten Kendall on Etsy. What's nice about this is that this shop will customize it with your initial to make it even more special.
7. Double Boilers Make A Great Gift Idea For Bakers
So many things need to be brought to a gentle cooking temperature, like chocolate & eggs. And if your baker doesn't have a double boiler they are most likely rigging something up from their own kitchen tools that they have on hand. But wouldn't it be nice to walk into the kitchen at that very moment with this double boiler? This will be sure to get you extra kisses and hugs. Ask your baker to make something that you know they will need a double boiler for and at that very moment when they start to bring over their handmade one, walk in and save the day with this lovely piece.
8. Vanilla Powder For Baking
After learning about different kinds of vanilla powders, we can tell you that they're not all made equally, and many bakers know this too. You have to be careful and watch for different kinds of fillers, additives, and sweeteners. This powder by Heilala is pure vanilla. Vanilla powder can be used in baking and for pumping up the extra flavor in coffee when it's being mixed into baked goods.  A little goes a long way. Keep in mind that vanilla powder isn't meant to be used like liquid vanilla extract. This is more for extra touches and to get vanilla specks into your baking. If your baker is making lighter colored baked goods like sugar cookies they might like this a lot.
9. Natural Marble Pastry Board For A Gift Idea
If you are looking for an extremely unique gift idea, then look no further. This is a gorgeous natural marble pastry board. This board is also good for making chocolate shavings. This marble board has little rubber feet to keep it in place and from damaging your countertop. And it's very heavy. This premium non-stick natural marble pastry board is a must-have for people who love to bake and make pastries because it keeps the dough cool so you can work with it properly. And don't even get me started on tempering chocolate. When your baker is not using it for their baking needs, they can use it as a serving tray for fruits and vegetables. Just make sure you mention to them that it's not for cutting on.
10. Gourmet Sea Salt Sampler For Baking
Fancy salts are fun to play around with and we make it a point to always have some on hand here. This sea salt sampler is a beautiful premium gift set that includes all natural sea salts. Bakers use sea salts for pastry dishes, and for finishing off the tops of cupcakes and other baked goods that need an extra special touch. Salt especially goes well with caramel and chocolate so your baker will be more than happy to use these for their baking ideas. This salt set has some really bold flavors here so if you have baker that's into experimenting, this would be an absolutely perfect gift. Salts add that extra little special pop of flavor when using it to finish off baked goods or pastries. This salt set might even get your baker inspired to try something new like making fancy chocolates! Be sure to hint that you would absolutely love to try some handmade chocolates.
$75 and up 
11. Handmade French Rolling Pin
Cattails Woodwork makes a stunning rolling pin from scratch. A beautiful handmade French rolling pin makes a great gift for bakers if you want to give them something totally unique and handmade. You can use these to roll out pastry, cooking, dough, and pasta too. If you are looking to splurge, then this might be exactly what you are looking for.
12. Instant Pots Can Be Used For Baking
One of the reasons why this would be a great gift idea for the baker is because you can melt chocolate in it, bake in it, and you can make the most delicious apple butter! We've been experimenting with the one that we got in here and can tell you that these are a dream machine for the kitchen. This is going to replace your crock-pot and pressure cooker. Let the baking experiments begin!
13. KitchenAid Stand Mixer For Mixing
Is any kitchen really complete without a KitchenAid stand mixer on the counter? A stand mixer is just one of those staples to have in the kitchen. So your baker will be whipping up pastries, icing, bread dough, and meringue in no time! You'll find that most bakers already have their favorite mixers but if someone's just starting out you might want to grab this! Check all of the different colors on Amazon.
Here are some more baking gift ideas on Amazon's best selling gifts for Bakers
DO YOU LOVE TO COOK & BAKE? There's something really exciting going on right now, it's called Masterclass and you can take courses from top Chefs like Gordon Ramsay right from your own home. Check out the new MASTERCLASS lessons. 
Thanks for reading our baker's gift guide today! We will continue to update this list as we find more incredible gift ideas. Please check back often to find the perfect gift for the person who loves to bake. If you found this gift guide helpful, don't forget to save a Pin to your board.
Leave a comment
Comments will be approved before showing up.