13 Best Markers, Pens, & Colored Pencils For Manga & Anime Art [2023]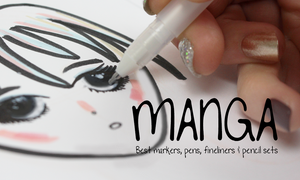 If you are wondering about what the best markers and pens are for creating manga and anime art, you have come to the right place. This list of best tools for manga and anime is great for anyone who is thinking about getting into manga and anime art as well as professionals who want to try something new.
And if you are thinking of giving a gift to someone who loves to draw comics and manga, you will find this list of products very helpful. There are lots of markers for beginner and professional artists. Anyone who tells their story through hand-drawn pictures will appreciate any of these choices.
When you are looking for the best manga and anime drawing tools, there are some general things to keep in mind. Does the marker bleed through? Are the markers archival?
Also, even though you may just be starting out it doesn't mean go for cheap art supplies. They never give you a full-color range and pigments that a professional set will and so, are you really practicing to your full potential?
Here are the best markers & tools for manga and anime drawing tools from trusted brands in the industry.
Best Markers For Anime & Manga Art
1. Classic Copic Set
Copic markers are some of the most popular sets among manga artists because of their massive range of colors and medium broad and flexible brush nibs.
These low-odor markers will give you outstanding performance for professionals and for those of you who are just starting out.
These alcohol-based markers are ideal for fine lines, illustration, and caricature. The ink is permanent, non-toxic and acid-free. Keep them out of high temperatures and away from direct sunlight.
2. Uniposca Markers For Manga
A must-have marker for manga and cartoon artists. POSCA markers are well known in the industry for their ease of use and high-quality graphic effects. POSCA is a name that sparks all kinds of inspiration and creativity and are used by professionals and amateurs.
The inks are super highly pigmented.
What artists really love about these manga markers is that if they have not been used for a while or dry out, they can be brought back to life easily. The marker's mechanism and valve system can be re-saturated with the paint. 
3. Professional Prismacolor Markers
This manga set comes in 8 sizes ranging from 005 to 08. You get fine tips, brush tips, and chisel tips.
The fine tips are for creating fine lines with crisp details and the flexible brush tip is for drawing thick, thin or varied line work.
The highly pigmented black ink is acid-free, permanent, and smear-resistant. So this set is good for professionals. You can choose from a set of 8, 10, or 12 manga pen sets.
4. Sakura Micron Fineliners
These are a must-have drawing set for any manga or anime artist. This full professional set comes with all the fineliners you need to get your linework and characters perfect.
These manga pens are archival, water-resistant, and fade resistant. The pigment molecules are larger than dye molecules so the ink stays on the top layer of the paper rather than absorbing into the paper so there is very little ghosting.
And on most quality papers, no bleeding or ghosting at all.
If you are looking for a gift idea for a manga artist, then these will be one of the pen sets that should be on your list for sure.
5. Tombow Dual Brush Markers
Tombow dual brush markers are another staple that we use often here. We use these markers for drawing, doodles, and they are one of the marker sets that you see often in our drawing tutorials.
If you are looking for a water-based marker that is acid-free and odorless then this is the set you need. You get a flexible brush tip at one end and then a fine tip at the other. So you can draw fine lines, medium, and bold strokes.
If you enjoy creating cartoons and caricatures, then you will find that the brush tip works kind of like a paintbrush but better because it gives you consistent lines.
6. Prismacolor Pencils
The Prismacolor colored pencils are also a staple for manga art. These pencils come in richly-pigmented specialty colors that are made especially for manga artists.
You can easily make skin tones in all kinds of shades with colors like Cream, Cloud Blue, Chartreuse, and Pale Vermillion. And the softcore lead resists breaking.
These colored pencils are super easy to blend out colors and the shading you can get by layering adds depth to your work. These manga pencils are lightfast and extremely high quality.
7. Ohuhu Markers
The Ohuhu markers are gaining popularity among artists because of their lower price point while maintaining good quality pigments. This set comes in dual tips which have a fine tip at one end and chiseled end at the other. So these are good for drawing thin and thick lines.
Keep in mind that the chiseled end is hard, not soft. If you like fast-drying markers, then you will like these because they dry pretty quickly. If you are on a budget, these are one of the best manga marker sets for the price.
8. Copic Singles
Now if you want to try a marker or two, then these Copic singles are available. They are available in all of the Copic colors and you can choose from their dropdown list of the colors that you want to try out.
They are alcohol markers that are permanent, non-toxic and acid-free just like the originals.
If you want to try Copic for your manga work and can't decide if you want to go ahead with the full color set as we mentioned above, this is a good option for you.
9. Sakura Gellyrolls
We love Gellyrolls so much and use our sets all the time. In fact, we keep them out in the open in a glass jar for easy reach because we use them for our floral tutorials.
This set comes with 74 colors! Let me tell you about the inks, they are so smooth. The rollerball just puts the ink onto the paper so nicely.
You get the Metallics, Classics, Moonlight, and dual-color Shadows. And if you like to go over darker colors in your manga drawings with sparkle and opaque white, then this is the set you need.
10. Glitter Brush Pens For Anime
This set comes with three markers that will leave a fine shimmer on your work. They are perfect for accents or for whenever you need a touch of glitter and sparkle.
These markers have a flexible brush for accurate application and since they are water-based, you can also use them to blend colored pencils and markers.
11. Chameleon Color Tops
These markers seamlessly blend into one another creating cool fading and blending effects. You can create a gradient from one pigment to another.
Easily create great effects such as color gradations, highlights, shadows, and shading, with just one pen and now the system includes seamless color-to-color blends.
12. Manga Markers
This professional set comes with all of the colors you could ever need for the serious Manga and Anime artist. These alcohol markers are easy to blend and very fast drying.
The ergonomic design makes it easy to remove the caps and hold the markers for long periods of time.
13. Arteza Everblend Markers
Every manga artist needs a really good set of skin toned markers. This 36 piece set comes with all the colors you need for all kinds of tones. Since you have a good selection of items, this set is good for beginners and professionals.
All the colors that you would need to start drawing your manga and anime artwork right away are in this set.
MORE HELPFUL ARTICLES
Did you find this list helpful? Please save a pin to share with others and to find us again later. 
Leave a comment
Comments will be approved before showing up.