8 Essential BATH BOMB SUPPLIES & INGREDIENTS [2023]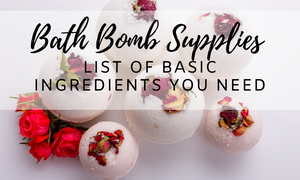 Here is the list of basic supplies you need to make your own bath bombs.
Making your own bath bombs is so much fun. Whether you are totally new to making bath bombs, or you have been making bath bombs for years, there are so many variations in color, ingredients, inclusions, scents and more that you will never run out of ideas.
Bath Bomb Supplies For Beginners And Professionals
When you are first starting out with bath bombs, there are some basic supplies that you will need, and finding the right ones will jump start your adventure.
And if you are a seasoned vet at this, we have some new products to help you make bath bombs quicker and more efficiently so that your supplies are always top notch. And once you start making your bath bombs, you can even branch into putting jewelry in your bath bombs!
The bath bomb ideas are really endless with this craft.
They are always coming out with new products, and we are here with an updated bath bomb supply list so you don't have to do any more researching, simply bookmark this page here and check back often.
The good news is that all of the best ingredients you need to make bath bombs can be purchased online so it's super easy to get started and make you own bath bombs at home or for your online shop.
This list includes bath bomb ingredients in smaller quantities, and also bulk bath bomb ingredients for those of you who need to make several batches. We will also share top choices for your bath bomb mold including silicone and stainless steel molds, colorant choices and more.
There are also bath bomb starter kits that you can purchase if you are brand new to this, and only want to dip your toes in the water to see if you like it.
Best Bath Bomb Making Supplies
1. BAKING SODA (SODIUM BICARBONATE)
Baking soda makes up the bulk of the bath bomb recipe, which is why you will want to consider purchasing it online rather than in your local grocery store: you will want to get bigger than those tiny boxes.
Baking soda reacts with the citric acid to make the fizz in your bath bombs. It is also an ingredient in bath bombs which is very soothing for your skin, and will totally dissolve in warm bath water which makes it the perfect ingredient for bath bombs.
Baking soda is a crucial ingredient in making bath bombs due to its effervescent and alkaline properties. When combined with citric acid—a common partner in bath bomb recipes—baking soda triggers a chemical reaction that produces carbon dioxide gas, resulting in the characteristic fizzing and bubbling when the bath bomb comes into contact with water.
This effervescence not only adds an element of excitement to the bathing experience but also disperses the soothing essential oils, colors, and other additives present in the bath bomb throughout the water, creating a fragrant and visually appealing bath.
You can choose a smaller bag of baking soda or a larger bulk baking soda tub if you are making larger batches of bath bombs.
2. CITRIC ACID
Citric acid is the second main ingredient you will need when making bath bombs. This acid comes from fermented fruits and vegetables.
You might think of oranges or lemons but this acid can also be derived from corn and even sugar beets.
The baking soda combined with citric acid is what makes bath bombs fizz. So this is a very important ingredient to have on hand for bath bomb making.
3. WITCH HAZEL
Witch Hazel is essential for making bath bombs. The best way to use it for bath bombs is to put it into a spray bottle. Then spray your bath bomb mixture a little bit at a time.
Witch hazel will add moisture to the bath bomb mixture so that it can be packed into the bath bomb mold properly, making it a necessary ingredient in bath bomb making. By using a spray bottle, this will stop the citric acid from fizzing while you are mixing.
4. DRIED HERBS
Dried herbs add extra eye candy to bath bombs that people love. It can create a natural feel and can really add a touch of care to your products.
Try to pair the dried herb with the scent that you are using though, for example: dried rose petals in rose bath bombs, or if you are making a lavender bath bomb, adding some dried lavender flowers to your ingredients or right to the bath bomb mold will make your bath bomb look amazing.
Some more popular herbs to add to your bath bombs include:
Dried calendula
Dried rose petals
Dried jasmine flowers
Cornflower petals
Lavender
Mint
and many more
5. ESSENTIAL OILS
If you love the natural aroma of flowers and herbs, then pure, organic essential oils are a perfect pairing for bath bombs. As the bath bomb fizzes away into the bath water, it will release all of the inviting aromas that you can only get from a pure essential oil.
Using essential oils instead of fragrance in bath bombs offers several benefits. Essential oils are derived directly from plant sources, capturing their natural aromatic compounds and potential therapeutic properties.
Unlike synthetic fragrances, which can sometimes contain potentially harmful chemicals, essential oils are generally considered a more natural and holistic option.
When incorporated into bath bombs, essential oils not only provide delightful scents but also offer potential relaxation, mood-enhancing, and skin-soothing effects.
The choice of essential oils allows for a diverse range of aromatic experiences and potential therapeutic benefits, making them a preferred choice for those seeking a more natural and holistic bathing experience.
It's super important to only use essential oils from trusted brands because there's a lot of essential oil brands out there that claim to be pure but are far from it.
We like to recommend NOW products. They are a trusted essential oil brand, and one we have been using for years and years in our bath bombs and for our soap making supplies for cold press and melt and pour soap. Try out their sample pack!
We highly recommend using these exact pure, organic essential oils as opposed to fragrance oils. Of course, it it your own personal choice when choosing between essential oils and fragrance oils, but we always like to opt for pure and natural when it comes to bath and body products.
6. COLORANTS FOR BATH BOMBS
If you are looking for a beautiful color selection for your bath bombs, we have dedicated a whole article for the best bath bomb colorants.
You can choose from liquid colorants, mica colors including cosmetic grade mica powders, clays, and even charcoal if you are wanting to make popular black bath bombs.
7. BUTTERS & OILS FOR BATH BOMBS
Adding oils and butters to your bath bombs will give them an extra boost of nourishing vitamins and minerals. This is especially helpful during the cooler months when skin tends to get dry from the weather.
There's endless amounts of oils and butters to play with and add to your bath bombs. People especially love adding little bits of cocoa butter to their mixture.
As the bath bomb fizzes away, the cocoa butter just melts right in perfectly. More popular oils for bath bombs include:
Olive oil
Jojoba oil
Sweet almond oil
Avocado oil
and more
8. BATH BOMB MOLDS
If you want to make your own DIY bath bombs, you will need to have the best bath bomb mold. And there are many you can choose from once you know what to look for.
It is important to find the right bath bomb mold that will hold the shape of it properly, and ones that won't take pieces of your bath bomb with it once you demold it.
We have rounded up the very best bath bomb mold ideas in this article for easy purchasing. You can even use them in your soap making supplies.
We hope you found this bath bomb article helpful. Please bookmark this page or share it on your social media groups so that your fellow bath bomb makers, family and friends can see it too.
Plus if you are having any problems with your bath bombs, for example, with your bath bomb molds or if your bath bombs are crumbling, or if you want to share some great feedback, we would love to hear how your bath bombs are going! Please leave us a comment below.
MORE HELPFUL ARTICLES
Please save a Pin to your bath bomb boards.
Leave a comment
Comments will be approved before showing up.