6 BEST Non-Toxic Paint Colors For Face Painting [2023]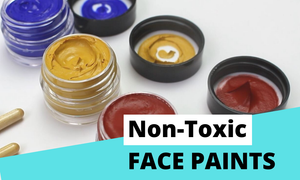 Here is one of the best non-toxic paints for face paintings. Painting your face is a fun way to show off your personality and get into the spirit of any event.
However, many store-bought face paints contain harmful chemicals that can irritate your skin. If you're looking for a safer option, consider using natural, non-toxic face paints. There are a number of recipes available online that use ingredients like food coloring, honey, and lemon juice.
You can also find non-toxic face paints at some craft stores. When painting your face, be sure to avoid any areas that are sensitive or broken out. With a little creativity, you can have a blast painting your face without worrying about the consequences.
In our search for the best non-toxic face paint, we have found a company that we would like to share with you. This is the natural face paint kit. This also makes a great gift idea for an artist!
We have worked with this brand before and they offer many different products like eco friendly paint kits & natural varnishes.
If you want to watch the swatching video, it's at the bottom of this post!
Check Prices Of Non-Toxic Face Paint On Amazon
Check Prices On Non-Toxic Face Paint On Etsy
Best Non Toxic Face Paint
Ok let's get into the face paint! This face paint set comes in 6 colors. They are non toxic and hypoallergenic. They make their paints with certified natural ingredients. This is a company that goes above and beyond when it comes to the quality of their kits and pigments.


Here are the colors and we'll give you a close up of each one without the lids so you can see exactly what you'll get in this kit.
There's blue, yellow ochre, white, green, red (looks kind of like a rusty color) and black. These are very earthy colors and they have a nice creamy texture to go onto the skin super smooth.
1. Blue Face Paint
Whether you're looking to add a splash of color to your costume or simply want to stand out from the crowd, blue face paint is the way to go. Unlike traditional makeup, face paint is non-toxic and safe for use on all skin types.
Plus, it's easy to apply and remove, so you can experiment with different looks without worrying about any lasting damage. 
2. Yellow Face Paint
Looking for a non-toxic, fun way to paint your face? This set also comes with a yellow ochre face paint that is safe to use and perfect for adding a splash of color to any event.
3. Pure White Face Paint
White face paint is a versatile product that can be used for a variety of purposes. Whether you're looking to add a festive touch to a Halloween party or simply want to experiment with your look, face paint is a great way to go.
When applied correctly, white face paint can make your features pop and give you an ethereal look that is sure to turn heads. So if you're feeling bold, don't be afraid to give this color a try that comes in this set.
This color looks so nice when there is eco friendly glitter added to it to make is sparkle and shine.
4. Green Face Paint
Green face paint is not only for leprechauns and St. Patty's Day! It can also be used for beautiful floral art. When blended with other colors, green face paint can create a variety of shades that mimic the colors of nature.
Whether you want to add a touch of color to your cheeks or create a full-blown work of art, green face paint is a versatile option that can help you achieve your desired look. So don't be afraid to experiment with this fun and festive color!
5. Red Ochre Face Paint
Red ochre face paint is the perfect way to add a pop of color to your look. Whether you're going for a natural or more dramatic look, this versatile hue can help you achieve it.
For a natural look, use red ochre as an accent color on the cheeks or lips. For a more bold look, apply it on the eyes or all over the face. No matter how you wear it, red ochre is sure to make you stand out from the crowd. So don't be afraid to experiment with this fun and trendy color.
6. Black Face Paint
Black face paint can be creative and bold. It is perfect for making a statement or for dramatic effect. It can also be used to create an exotic look. Black face paint is versatile and can be used in a variety of ways.
It is perfect for parties, events, and Halloween. Black face paint can also be used to create a unique look for a photo shoot or performance.
If you brush on some of this black paint, and then dab some cosmetic grade mica powder on top, you are going to have a stunning look for sure.


Here is the swatch of all the colors in this kit. The colors went on nice and opaque with the applicators that are included in the pack. Included are a soft brush, a makeup applicator and then they also include a fine brush for detail work. The brushes are made with eco bamboo and vegan bristles.


You might also want to try painting the pigments on with really light layers to build up the colors too. So you can just play around with them to see what works for you for your designs. 

If you do apply these pigments more on the thick side, you will have to wait a bit for them to dry. Applying a light layer or two will help with the drying time.

Lastly, they washed off very easily which you will see in the video below. All we used was a piece of paper towel with warm water and the paints were coming off no problem.
From Natural Earth Paint:
Non-toxic, Safe and Hypoallergenic: Made with Certified Organic ingredients & Mineral Pigments. Washes off easily with water.
Made in the USA. Our Face Paint is certified non-toxic, and it is free of nanoparticles, heavy metals, parabens, phthalates, formaldehyde, petroleum-based pigments and animal products.
Ingredients: distilled water, natural clay & mineral pigments, organic castor seed oil, certified organic beeswax, Certified Organic Shea Nilotica (Fair-trade shea butter), cetearyl alcohol (from natural vegetable oils), carrageenan seaweed, olive-mulse (olive based emulsifier), and 1% Optiphen (a formaldehyde-free and paraben-free preservative). 

We hope this review helps you out, thanks for reading!
Non-Toxic Face Paints Review
If you would like to support this blog, please share this article! We would really appreciate that.
Do you have a natural Pinterest board? Here's a pin we made for you.
MORE HELPFUL ARTICLES
Leave a comment
Comments will be approved before showing up.