Eco-Friendly Glitter | Best Biodegradable Glitter For Crafts
In today's society, we are a more environmentally conscious group of people. We are aware of the dangers of plastics and how they affect our environment. Our mindful effort to reduce earth-harming chemicals trickles down into all of our hobbies and pastimes, including crafting.
So if you are a crafter who wants to be more environmentally conscious, using eco-friendly glitter is an excellent place to start. Especially if you are selling your crafts and want to promote that you use eco-friendly products, and share what you know about eco-friendly crafting!
What is Eco-Friendly glitter? Eco-friendly glitter is small, highly reflective particles derived from plant-based material as opposed to plastic.  Biodegradable glitter is often made from cellulose and eucalyptus tree extract metaled with aluminum and it biodegrades in the presence of microorganisms in the environment. Eco-friendly glitter can have color added to it, and it is just as sparkly. Glitter that is made from manufactured plastic takes about 1000 years to biodegrade according to North Carolina State University, and there have been many calls to ban plastic-derived glitter.
Eco-Friendly Glitter
Many artists wonder why they should choose to use eco-friendly glitter in their work. The customer buying your art, who is aware of eco-friendly materials, wants to know they are supporting an artist who is using eco-friendly products. They understand that in the artistic process, there is often a mess to clean up and the artist likely produces many pieces a year. That means lots of tiny particles of plastic down the drain and in the garbage, which may not appeal to your eco-conscious shoppers.
It is a good practice for us, as artists, to use these eco-friendly products, or at least try them out!
Here is a list of some eco-friendly glitter products you can use:
1. BIOGLITTER BY TODAY GLITTER
Check prices on Today Glitter here
Today Glitter was the very first company in the United States to become a verified retailer of Bioglitter in the American continent. BioGlitter is the first naturally biodegradable glitter in the world!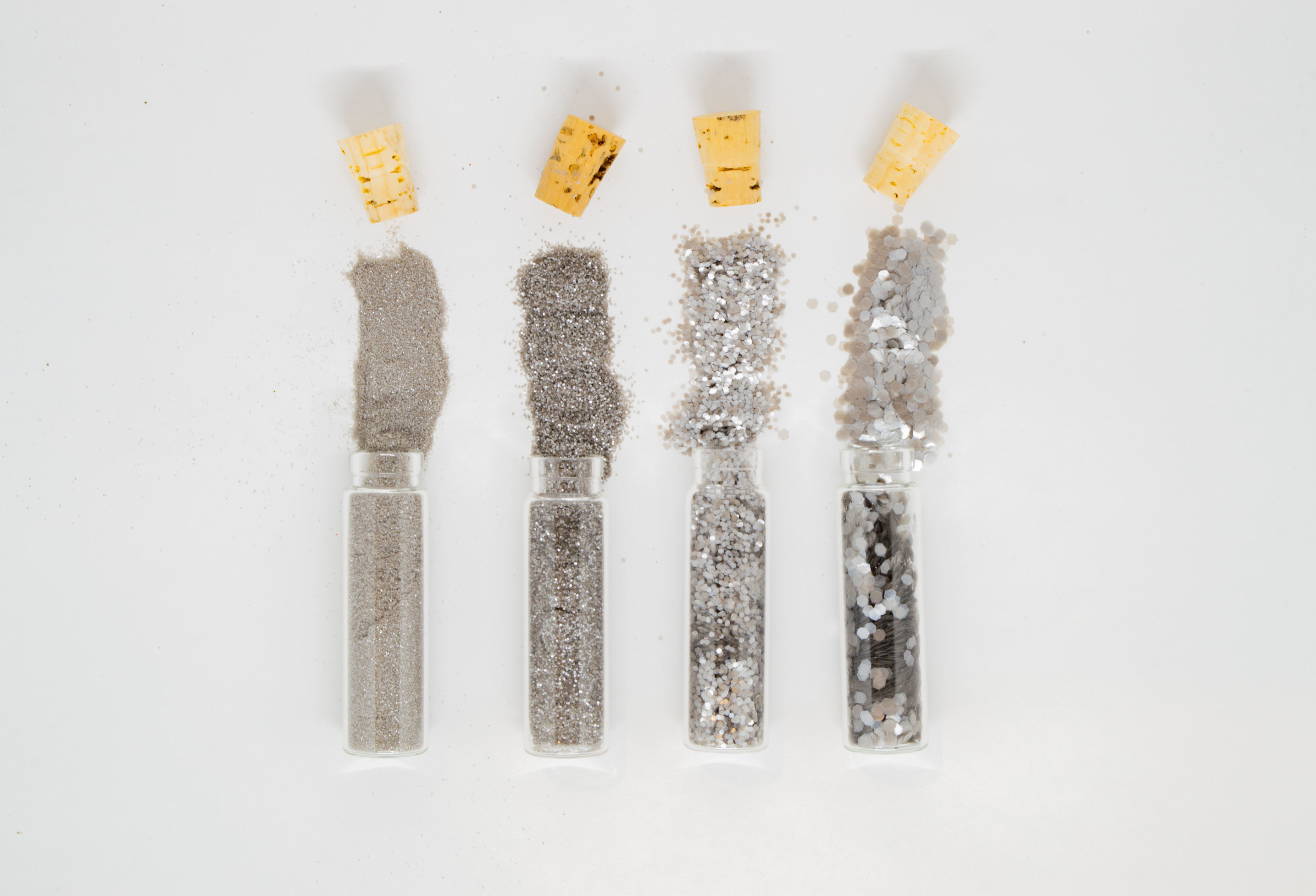 Their mission is to enhance the inner beauty of each individual without contaminating our environment. If we could all get behind this mission, imagine how much plastic we could spare from the earth?
2. MINKE BIODEGRADABLE GLITTER
This biodegradable eco-friendly glitter is both manufactured and packaged in the USA and is 100% biodegradable. It is made with a cellulose film and is also vegan-friendly and cruelty-free! This brand meets all FDA requirements for a cosmetic grade so this would be great for bath bombs, soaps, crafts, and cosmetics. It is a very fine glitter coming in at .008 hex.
Check price of Minke Biodegradable Glitter on Amazon
It comes as a package with four 9 gram jars in colors Warm Magenta, Black Pearl, Silver Zodiac, and Gold Zodiac. Plus, when bought here on Amazon, Minke donates a percentage of each sale to Greenpeace International.
3. BIODEGRADABLE, ECO-FRIENDLY CHUNKY GLITTER BY ELETRIK GLITTER
Hand-mixed in California, this holographic glitter found here on Amazon has 5 grams of biodegradable glitter sourced from eucalyptus trees. This company donates a portion of its sales to ocean conservation efforts!
We are loving these earth-loving brands! This company is also cruelty-free and does not test on animals. The packaging is also made from recycled paper!
Check prices of Electrik Eco Glitter here on Amazon
4. BIODEGRADABLE EARTH-FRIENDLY GLITTER BY PLUR VISION
Made with plant cellulose, this is a glitter that the company says will "biodegrade in most environments but [will] still hold up when combined with lotions, gels, oils, and other cosmetics". This is another eco-friendly glitter produced in the USA.
These colors come in quarter-ounce, half-ounce, and 1-ounce size options, and you can choose from six colors or two combination color packs from Amazon. Lots of choices here! Colors include Amethyst Sky, Emerald Equinox, Moonlit Silver (which looks more like an iridescent to us), On Point Pink, Sapphire Magic or Sunny Gold. The colors are very pigmented and brilliant.
Check prices of Plur Vision Eco-Friendly Glitter on Amazon here
Those are our top choices for eco-friendly glitter. Eco-friendly glitter is still a new trend, so we will update this list as we discover more brands with great reviews. Be sure to PIN this article to check back often!
Compare prices of eco-friendly glitter on Amazon here
If you are looking for eco-friendly options for your craft business, you may also want to check out some of our printables. We have some really cute (free!) eco-friendly stickers you can download and print from our website right here.
We also have a super cute printable sign you can put at your booth in a pretty 8x10 frame right here for free. Simply download and print.
Be sure to check out our other posts on glitter! We have a great one on adding glitter to geode resin art, browse our glitter posts right here.
If you are an Amazon shopper and are interested in purchasing any of the products we mentioned above from Amazon, here's a coupon from us for an Amazon Prime Free Trial, which gives you FREE and fast delivery on Prime Products! Try it free for 30 days on us at no charge:
We hope you enjoyed this earth-friendly post! Be sure to pin it to your favorite Pinterest board. We would appreciate that!
Have a sparkly day!
Leave a comment
Comments will be approved before showing up.