7 BEST TIPS and IDEAS for using Golden Fluid Acrylic Paint [2023]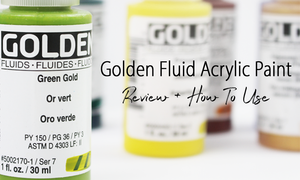 Today we are taking a closer look at the Golden Fluid acrylic paints. Painting can be an enjoyable and therapeutic activity. Golden fluid paint is a type of acrylic paint that is known for its smooth consistency and vibrant colors.
When painting with golden fluid paint, there are a few things to keep in mind in order to ensure a successful painting experience. A good brush will help to create smooth lines and evenly distributed color. Don't be afraid to experiment with different techniques.
Golden fluid paint is versatile and can be used in a variety of ways. So go ahead and experiment with different brushstrokes and color combinations until you find a painting style that you love!
Golden Fluid Acrylic Paint - Review
Here is a review of the Golden Fluid Acrylic Paints with a swatching video.
We have been using these highly pigmented acrylic paints for a few years now and absolutely love them. Golden Fluid acrylic paints are highly intense permanent colors for indoor use. The flow is like a thick cream so these paints will give you a perfect line every single time without any fuss. There is no loss of pigment when mixed with another medium which is another reason why artists enjoy using them so much.
WATCH THE VIDEO: SWATCHING GOLDEN FLUID ACRYLIC PAINTS
1. Golden fluid paint can be used on all surfaces
Golden fluid acrylic paint has a very high pigment load. The colors are bold and a little goes such a long way. A 1oz bottle of Golden fluid paint seems to last and last for a very long time.
If you are using this type of paint for a large project or using them for dirty pours, this paint also come in larger sizes too. So if you are a professional artist or a home crafter, there are several sizes and price points to choose from depending on your project.
If you have ever tried painting on cloth shoes like this galaxy shoe DIY tutorial, you can certainly use these paints for that.
2. Read the bottle for usage warnings
When shopping for your acrylic paints, be sure to read the back labels for any instructions or warnings. Labels tell you how paints will blend and how they will cover. Some paints are opaque and others are for light washes.
This is important! You don't want to accidentally buy the wrong coverage. In the example below, you can see how each color has a different level of coverage.
3. Practice Good Art Studio Habits When Using Golden Fluid Acrylic Paints
When you are using any kind of craft supplies be sure you are practicing good craft room and studio habits: No eating while painting, have good ventilation, use gloves etc. Always read the back labels of any product and protect yourself accordingly.
4. Shake paint bottles well before use
Some paints need shaking before use, especially the iridescent colors if they have been sitting for a while. The iridescent pigments are gorgeous and highly pigmented.
Below is a sample of some galaxy jewelry we hand painted using the Golden fluid acrylic gold and bronze iridescent colors.
5. Golden fluid acrylics are lightfast
Golden Fluid Acrylic paints are produced using lightfast pigments and contain no fillers or extenders. Lightfastness describes how resistant to fading a product is when exposed to light so if you are a professional artist there is no need to worry about losing paint integrity over time.
These paints allow for smooth flowing applications while retaining color intensity, tinting strength, film integrity, and adhesion.
One of the reasons why these make such a great gift idea for a crafter or artist, it that these paints are archival. So if you know a painter who needs an extra special gift idea these are perfect for that.
6. Golden fluid acrylics come in many colors
Golden Fluid Acrylic paints come in many colors but if you are just starting out you might want to try a few primary colors to experiment with first. You can mix a wide range of shades and hues with just the basics.
Below we have mixed a variety of beautiful colors with just 3 Golden fluid acrylic paints using Pyrrole Red, Ultramarine Blue, and Cadmium Yellow.
If you are into resin crafts and looking for the best colorants to add to resin, you can totally use these. The best thing is that you don't need very much to color resin at all, a little goes a long way.
7. Golden fluid paints are good for rock painting
If you are a rock painter then these paints are for you. Here we used Cadmium Red and Carbon Black to paint these ladybug rocks. The coverage and easy way to paint small lines is so simple! We have a really great rock painting tutorial that you can try using some golden paints.
The paint goes right into those little crevasses with ease. 
How Do You Use Golden Fluid Acrylic Paint?
Golden fluid acrylic paints are high pigment paints that artists use for fine art,  line paintings, dirty pours, and geode paintings. Golden fluid paints have a medium flow which allows for clean lines.
These acrylic paints keep their bold colors due to their high pigment load even when mixed with water and other mediums.
MORE HELPFUL ARTICLES
Best Respirator For Alcohol Inks
If you liked this article and want to remember it in the future, PIN the image below to come back to read again LATER. We would appreciate that!
Have a bright day!
Leave a comment
Comments will be approved before showing up.