47 Best Handmade Jewelry Shops On Etsy [2023]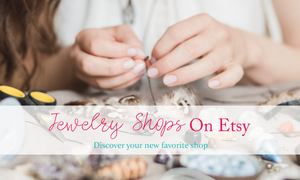 Here are the best craft shops on Etsy. Whether you are looking for a special gift idea or a new and exciting jewelry piece to wear at your next party, the best place to look for gift ideas is on Etsy.
This list features the best shops for people who love delicate natural botanicals to handmade gift ideas for anyone on your list. These Etsy shops work hard for their customers and have lots of handmade goodies to offer.
It was hard to narrow down this list as there are many amazing Etsy sellers and jewelry designers out there. We had so much fun going through the thousands of beautiful shops and were just awestruck by the passion and care that these shops take to make sure their customers have a positive experience.
We searched and searched for a wide variety of jewelry shops on Etsy so that there is something for everyone on this list. We hope that you discover a new favorite shop to bookmark. The shop owners beautiful jewelry photography will help you make the best choice.

Tip: Check the announcement section of each shop to see if they are running a sale or offering coupon codes before completing your purchase.
Congratulations to all of the shops who made the list this year! These shops are in no particular order, they are all fabulous in their own unique ways.
BEST JEWELRY SHOPS ON ETSY
1. You Concrete Me
This jewelry comes from the coastal city of Vancouver, Canada. You Concrete Me designs on Etsy are exclusively made with industrial raw concrete and exposed pine to create pieces with texture and style.
All of their jewelry pieces are handcrafted in their studio. These concrete pendants could be your new favorite accessory!
2. Specimental | Rough Diamond & Raw Gemstone Jewelry on Etsy
This is a luxury jewelry brand on Etsy and they offer rough diamonds and raw gemstone jewelry. Specimental has been setting raw diamonds into rings since 2009 and has the knowledge and experience to ensure you are receiving a quality product.
Their rough diamonds are sourced from a small number of reputable dealers who source their stones from conflict-free countries.
3. DELEZHEN | Gemstone Jewelry
Based out of Massachusetts, Delezhen offers stunning gemstone jewelry with real gemstones and crystals. Each jewelry piece is beautiful, totally giftable and will go perfectly with any outfit day or night. Their positive feedback is testimony to their customer service and gorgeous offerings.
4. Distinctly Ivy | Hand Stamped Charms With 1 Day Shipping on Etsy
If you are looking for custom stamped charms with super fast shipping, then this is the shop you are looking for! This team ships their orders very quickly and they even share coupon codes in their store announcement so be sure to check that section out.
Their hand stamped necklaces can be used to dress up or down.
5. Grace Personalized | Gold Name Necklaces on Etsy
This Etsy jewelry shop offers elegant custom name & letter necklaces that are perfect for gift giving. 
Grace Personalized is all about providing their customers with a unique and personalized shopping experience. All of their orders are delivered to you in gift-ready packaging.
6. Lemon Lime Creations | Hand Stamped Layered Rings on Etsy
This shop offers simple and beautiful stamped rings for any time you need a little something special. Their jewelry is perfect for everyday wear and each piece is personalized by hand.
Each piece is created with an anvil, a letter set, and a hammer so you are truly getting a one of a kind piece every time.
7. Villa Sorgenfrei | Nature Inspired Handmade Jewelry on Etsy
If you are looking for one of a kind, original jewelry that is inspired by the beauty of nature with dried flowers, this is the Etsy shop for you! Handmade in Berlin, each piece is exclusively designed by Claudia, the shop owner.
Everything she makes is hand finished in her own workshop and arrives in specially designed, branded packaging.
8. Tom Design | Wedding & Bridal Gifts on Etsy
A big hello from the team from Southern Utah! At Tom Design you will find initial necklaces, dainty bracelets, and gemstone jewelry pieces that are all created with in house engraving machines.
This Etsy jewelry shop features personalized gifts and often gives special discounts for wedding parties so be sure to send them a message if you are looking for bridal party jewelry.
9. Frosted Willow | Dainty Sterling Silver Bracelets on Etsy
This jewelry shop has a large selection of handmade bangle bracelets to stack and collect from their unique Frosted Willow line of dainty thin wire charm bracelets.
They have a helpful sizing chart in their shop announcement so that you can pick out the perfect size for your wrist. Aren't they lovely?
10. Sampson Jewelry | Solid Gold Nose Rings on Etsy
This Etsy shop is run by the jewelry designer Uzi, who has been studying jewelry design for over 25 years (and it shows!). They have a selection of nose rings, necklaces and more handcrafted with 14k solid gold.
11. Jewelry Blues | Custom Artwork Jewelry on Etsy
This Etsy shop carries a wide variety of hand-stamped necklaces and gift ideas and we love their Family Tree and Tree Of Life designs.
But what we especially adore is the custom Children's art necklace that you can order with your own child's artwork! How cool is that!
12. Alari Design | Bohemian Stacking Rings on Etsy
This shop is all about custom and some of their offerings are made to order so you know you will be getting a one of a kind piece just for you.
There's something for everyone in this shop and we especially love their rustic money clip and bohemian bands like the ones below.
13. The Silver Wren | Birthstone Necklaces & Jewelry on Etsy
From the Arizona desert, this shop has the most pretty birthstone necklaces which make a perfect gift idea for Valentine's day, Mother's day or just as a special gift of thanks and appreciation to your loved one.
14. Freshly Fig | Huge Locket Selection on Etsy
If you are looking for the most amazing locket jewelry selection, then this is your Etsy shop. They specialize in lockets and layering necklaces in rose, gold, and silver.
They also use eco-friendly recycled paper mailers and boxes to be as kind to the earth as possible.
15. Otis B Jewelry Gifts | Gorgeous Gemstone Jewelry on Etsy
This shop is one of our favorites! This Etsy team makes custom gemstone & personalized jewelry right in the USA. Their items are handmade and shipped from New Jersey. 
You will find an assortment of the latest jewelry designs that are handcrafted to perfection, and perfect for a fancy night out or paired with your favorite jeans.
16. Wood All Good | Handcrafted Wood & Resin Jewelry on Etsy
Oh my gosh, this shop has gorgeous wood and resin jewelry for all occasions,  incorporating little fragments of nature.
Each piece is unique and made one a time entirely by hand. By combining natural materials with resin they recreate beautiful scenes inspired by nature.
If you love the look of resin, check out our resin jewelry resources.
17. Little Gem Girl | Custom Pet Pendants on Etsy
We love this Etsy jewelry shop! They offer custom photo pendants so you can upload your pet's photo to them to have your very own personalized necklace.
We really like their glow in the dark jewelry, the fantasy dreamscapes, and book quote pendants too!
18. Maristella890 | Genuine Sea Glass Jewelry on Etsy
This Etsy shop has beautiful beach-themed necklaces, sea bracelets, and mermaid jewelry.
Their elegant lockets and earrings are made with real genuine sea glass. Be sure to check out their announcement section for any deals or coupon codes.
19. DOCTORGUS | Handcrafted Metal Jewelry on Etsy
This shop is packed full of unique and wondrous items. You can find one of a kind handcrafted pieces inspired by fantasy motifs and playful aquatic forms.
This designer loves to incorporate found objects such as antique silverware, watch movements for their steampunk jewelry and even living plants.
20. JLynn Creations | For Large Custom Orders on Etsy
A store that combines their love of fashion accessories with their expertise for large orders. They offer creative, unique jewelry to celebrate your life.
This Etsy shop loves to work on custom and wholesale orders, so don't hesitate to call on them if you are looking for a large order for a bridal party or celebration.
21. Emily Design | Metal Floral Designs on Etsy
This shop has our heart! They have the most gorgeous spinner rings with delicate florals stamped right into the metal.
Each piece is completely handmade from scratch to order from their MA studio. They offer sterling silver, brass, pewter, vermeil and gemstone jewelry.
22. Debra's Divine Designs | Ethical Butterfly Wing Jewelry on Etsy
If you are on the lookout for real butterfly wing jewelry then you will fall in love with this nature-inspired Etsy shop. They make all of their winged jewelry by hand with ethically obtained wings from butterflies that naturally expire.
23. GLDNx Layered And Long | Name & Initial Jewelry on Etsy
This Etsy shop features name & initial necklaces and personalized rings. All of their jewelry is handcrafted with care in the Pacific Northwest studio by hand, and we especially like their stamped bar sets.
24. Pearl And 88 | Freshwater Pearl Jewelry on Etsy
This Etsy shop offers custom made freshwater pearl jewelry. They offer the best possible jewelry at reasonable prices and variety to fit every occasion.
Each product and design in their Etsy shop has been given close attention to detail to ensure you are receiving a quality product every time.
25. My Blue Snowflake | Scripture Pendants on Etsy
If you are looking for jewelry that focuses on inspirational messages and scripture pendants, this shop is your dream shop!
This Etsy store features pendants and gift ideas for bridal parties, mother of the bride, and other special occasion gifts like retirement, graduation, and teacher gift ideas. We especially love their scripture pendants.
26. Close By Me | Memorial Jewelry on Etsy
Right out of California, this shop offers subtle memorial jewelry to remember your loved one in a close personal way. Their unique process and proprietary solution hardens the ashes and enhances the color, giving it an appearance that is best described as a stone.
Memorial jewelry is becoming more and more popular over the years and it's nice to find a shop that takes great pride and care with these sentimental keepsakes.
27. Caitlyn Minimalist | Dainty Jewelry That Can Be Customized on Etsy
This Etsy shop features dainty personalized jewelry that is handmade with high quality solid 925 sterling silver.
If you are looking for an anniversary gift or something special just for you, check out their collection of custom handwriting bracelets, they are simply stunning.
28. B Jeweled Vintage | Custom Map Jewelry on Etsy
If you are looking to remember that favorite trip together in a unique way, then B Jeweled Vintage is your Etsy shop!
Their custom map jewelry is a meaningful way to save the memories of your trip together.
29. Tesoro Jewelry | Inspirational Messages on Etsy
Shop for custom stamped pendants with inspirational and motivational quotes. We are absolutely in love with their custom stamped bracelets with quotes like "and though she be but little she is fierce", "never give up", and "the adventure awaits".
30. Moonkist Creations | Silk Wrapped Bracelets on Etsy
There's so much to see in this shop but we especially like their gorgeous silk-wrapped bracelets that are popping up everywhere.
Moonkist is a small family business that creates their jewelry designs from their studio in the mountains of South Carolina.
31. Beauty Spot | Planet & Solar System Jewelry on Etsy
If you love solar system jewelry, planet pendants, or moon rings, then you MUST check out Beauty Spot. Their planet jewelry and gift items are all handmade from their studio in the Ukraine. 
32. Tiny Hands | Polymer Clay Creations on Etsy
If you love food charms that are small and cute then you will instantly fall in love with Tiny Hands. And guess what, their charms are scented too.
Are you dreaming of a cherry chocolate truffle? Do tiny treasures make your heart beat faster? Then head on over to discover your favorite miniatures.
33. Full Moon Jewellery | Dainty Knuckle Rings on Etsy
Visit this shop if you are on the lookout for dainty jewelry with a timeless look. You can choose from stacking rings, stunning copper hair sliders, and dainty silver knuckle rings like these.
34. The Hollow Geode | Druzy Pendants on Etsy
Now if you are into raw gemstones and druzy pendants, then this is your store! They have a large collection of beautiful necklaces. And have large statement pieces as well as dainty stones that will light up your look in the most fabulous way.
35. Matilda August | For Animal Lovers
Do you have a love for animals? This Etsy shop carries the most adorable little kitten paws, clever foxes, and dog charms.
Their charms come with inspirational messages right on the packaging so they are ready for gift giving the moment they arrive.
36. Nix Creations | Best Dragon Eyes on Etsy
For dragon and fantasy lovers, we have the Etsy shop for you! We are so glad we found this jewelry shop because they make the coolest dragon eye pendants and jewelry. 
Matthew works in several different mediums such as fused glass, wire wrapping and polymer clay and has been growing his business for over 15 years.
We especially love his dragon eye wire wrapped pendants made from his own hand painted eyes. The details in his work are stunning. They also offer Blythe doll supplies.
37. Autumn Equinox | Dainty Knot Rings on Etsy
Visit this shop if you are looking for minimalist handcrafted rings & jewelry. All of their jewelry is nickel-free and is made with sterling silver, or gold-filled.
They have a helpful chart in their policy section to help you pick the perfect sizes. We think their knotted rings are perfect for everyday wear.
38. Trademark Antiques | For Authentic Vintage Finds on Etsy
If you are on the search for authentic vintage jewelry then you are going to find the perfect piece in this Etsy shop.
They are passionate about vintage jewelry and they offer high-quality antique & vintage jewelry pieces that are carefully hand-selected on their buying trips across the U.S.
39. Fishes Give Kisses | Glow In The Dark Jewelry on Etsy
If you love the wonder of fairytale and fantasy, then you will find exactly what you are looking for in this Etsy shop. They specialize in unique statement pieces and glow in the dark jewelry.
How lovely would this pendant look during a stroll along the beach on your next vacation?
40. Petites Pierres | Armlet & Anklet Jewelry on Etsy
This Etsy shop offers custom armlet and body chain jewelry. We had a lot of fun browsing through their shop and just had to share this beautiful coin chain armlet design with you.
What a perfect piece of jewelry to wear for a night out paired with your little black dress.
41. Bridal Star | Bridal Hair Accessories on Etsy
Visit this shop if you are looking for stunning hair accessories. They specialize in bridal hair pieces like custom combs, hair vines for all budgets.
42. MARIAELA | Stunning Botanical & Flower Jewelry on Etsy

Add a touch of nature to your look with their stunning dried hydrangea pendants or pressed flower terrarium necklaces. We could browse in this  Etsy shop all day, each Jewelry piece is so dreamy and romantic.
This husband and wife team creates everything in their Etsy shop from scratch in their own studio.
43. Blue Bayer Design NYC | Metal Statement Jewelry on Etsy
Metal skulls, bronze ravens, and 14k gold double snake rings are just a few of the wondrous pieces that this shop has to offer. They make some seriously interesting designs. Each jewelry piece is handcrafted so there will be unique color and construction variations.
Head on over to pick out your favorite new edgy piece!
44. Silversmith 925 | State Necklaces on Etsy
Celebrate your state with these handmade state charms. What's even more amazing is that all of the charms are hand-cut right in their jewelry studio so you are purchasing something completely handcrafted when you shop at this Etsy store.
45. Bella Mantra | Best Jewelry Gifts For Everyone on Etsy
You will certainly find the perfect piece if you are looking for the perfect gift for your loved one. Music note necklaces, dragonfly bracelets, and hockey rings are just a few of the unique jewelry items in this shop.
How cute are these scissor bracelets for a hairstylist or crafter in your life?
46. Polka Dot Drawer | Large Statement Jewelry Designs on Etsy
If you are looking for huge runway type jewelry and large chunky necklaces then visit Polka Dot Drawer on Etsy. Their statement necklaces might be exactly what you are looking for!
47. Ayalga

 

| Elvin Ear Cuffs & Fairy Crowns on Etsy
If you have always wanted to be transformed into a fairy, or are looking for elven ear cuffs, then you are going to LOVE this shop. You'll be sure to find your perfect piece to wear to your next theme party or renaissance festival!
We hope you found this list helpful and that you find your perfect new jewelry piece. What is your favorite Etsy jewelry shop?
Here's a video on our YouTube channel with some jewelry sellers that make great gift ideas.
MORE HELPFUL ARTICLES
How To Get More Traffic To Your Etsy Jewelry Shop Or Website
Pendant Mockup Bundle For Photo Jewelry
 Save a Pin to share these amazing shops on your boards.
Leave a comment
Comments will be approved before showing up.