5 Ways To Use Masking Fluid For Crafts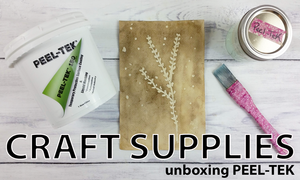 Here is a video tutorial on how to use masking fluid for craft projects.
We used Peel-Tek on several different craft and papercraft projects and couldn't wait to share the results with you. This brand comes in several different sizes so you can choose the best size for your projects.
Masking fluid should have a consistency of yogurt. It does have a preservative so do keep good air flow coming through your art room.
When we tested the masking fluid on a piece of paper, it dried completely in about 20 minutes. It was applied pretty thick. You won't need to apply it as thick for craft and art projects.
When you are using it for craft projects, it will dry fast because you do not need very much at all to cover the area. You can just use a small paint brush when using masking fluid.
How To Use Masking Fluid
Let's first discover what you can use masking fluid on before we talk more about how to use it.
WHAT MASKING FLUID CAN BE USED FOR 
1. Coffee stained paper
Make different designs onto vintage or coffee stained paper. You can apply the masking fluid, let dry and then dip it into coffee or other staining ideas like beet juice too! The effects are amazing!
2. Rock painting
Yes, you can use masking fluid on rock painting crafts. Just paint the masking fluid onto the areas where you do not want the paint. Now you can either paint the rock, or dip the rock into dye.
Play with different effects, it's super fun! If using masking fluid on rocks, you can add a tiny bit of water to thin it down. Just be careful not to add too much water or it will not set up.
3. Watercolor painting
This is the most common use for masking fluid in art and craft projects. When painting on the masking fluid, just make sure that you are putting it on thin. If you are using masking fluid on fine art, make sure you check with the company to make sure the brand you are using is acid free.
4. Easter Egg Decorating
This is so much fun because you can decorate Easter eggs with masking fluid. There's so many fun designs to play with too!
5. DIY Galaxy shoes
Ok this was such a fun way to use masking fluid. Watch this galaxy shoe tutorial on our YouTube channel to see how we make these cool shoes. Or you can read the full tutorial on this blog post.
TIPS FOR USING MASKING FLUID FOR ART AND CRAFTS
1. If purchasing a large bucket, take a mason jar and put some in. This will help keep the larger bucket of masking fluid fresh. As the masking fluid gets exposed to air, it will start to thicken.
2. Keep the masking fluid jar upside down when storing it. This will keep the top layer from forming a skin on top.
3. Wash brushes immediately with soapy water. Once the masking fluid dries, it will be almost impossible to get it out of the bristles. Silicone brushes might be a better choice. You can get affordable silicone brush sets here on Amazon.
4. Masking fluid will peel off of most surfaces once dry. Avoid getting it onto your clothes. If you do, wash it out immediately before it sets up.
5. If the masking fluid is too thick for our project, you can add a tiny bit of water to thin it down. Just be careful not to add too much water or it will not set up.
Thanks for reading this masking fluid article. We hope you found some really cool ideas for your craft and art projects. Feel free to share this article on your socials and blogs by linking back to us.
Please save a pin on your craft boards so you can find us again.
Leave a comment
Comments will be approved before showing up.