16 BEST She Shed Ideas: Create a space of your own [2023]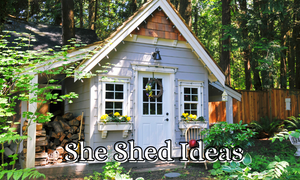 Here are the best she shed ideas for this year. You don't need a ton of space to create your own perfect hideaway.
She Sheds allow you to have a creative space surrounded by all of the things you adore and love, plus it is one of the home improvements that add value to the house.
What is a She Shed?
A She Shed is a physical building you construct or repurpose for a private retreat at home.
A She Shed reflects who you are and is a place to relax, read, craft, write, create or entertain in your own cozy retreat.
A she shed is a positive space that shows off your unique personality. Read below to learn more and check out some great resources on building and making your She Shed.
She Sheds are typically built outside the house, in the yard like a garden shed or a storage shed, thus the name 'She Shed'.
Whether you want a romantic space, a rustic abode, or a shabby chic look full of florals and chalk painted furniture, here are some fantastic ideas on how to make your own She Shed amazing and perfect.
Creative She Shed Ideas
1. Plant Whimsical Plants & Bushes
Whimsical plants can be a great addition to a she shed aesthetic for a few reasons.
First, these types of plants add a touch of whimsy and playfulness to the garden, which can help to create a lighthearted and inviting atmosphere. This can be especially important in a she shed garden, which aims to create a sense of relaxation and enjoyment.
Second, using whimsical plants can help to add a unique and personal touch to the garden, as they are not as common or predictable as more traditional plants. This can help to make the garden feel special and reflective of your own personal style
Finally, incorporating whimsical plants into a she shed garden can help to draw the eye and create visual interest. These plants can be used to break up monotony and add pops of color and texture to the garden, which can help to make it more visually appealing.
2. Modern She Shed Designs
The she shed craze of recent years has brought us wonderful designs that cater to the modern woman.
From tasting rooms, crafting corners, and cozy reading nooks all set to transport you to an oasis away from the hustle and bustle of everyday life. A modern she shed offers a beautiful touch of minimalism that brings about feelings of relaxation.
Whether you need a quiet respite for unwinding with a book on a lazy Sunday afternoon or a haven for creating art projects - she shed designs like this make it easy to build the perfect private getaway in your own backyard.
3. Custom She Shed Signs
Nothing adds personality like a custom sign. These she shed signs from Etsy are the perfect way to let your unique style shine!
They come in all shapes and sizes, so you can show off everything from funny one-liners to romantic quotes for any shed décor.
Plus, they're made with quality materials and will last for years. Let these she shed signs be the start of crafting your own personal sanctuary.
4. Use Garden Lights
Bring a romantic atmosphere to your she shed or outdoor living space with the perfect lighting.
Fairy garden lights are an easy and beautiful way to illuminate your outdoor area and add a special, enchanting touch.
With the right set of fairy lights, you can bring some twinkle and glamour to your she shed for romantic candlelit dinners, movie nights-in, or gatherings with friends.
Delicately stringing up the fairy lights around your she shed is like finishing off a beautiful painting – it adds the perfect flourish to complete the look to the shed décor.
5. Romantic Chandelier
When it comes to your she shed, you want it to be cozy and uniquely yours. Ambience can be created with thoughtful lighting. You could just choose a functional ceiling light that does the job, but why not choose something unique and romantic for the shed décor accents?
A chandelier can add a graceful atmosphere and make your she shed stand out, creating the perfect feminine hideaway for evenings spent nestled away.
Opt for one with long, effortless drapes of crystals and glass for a dreamy she shed look. With these thoughtful details, you're sure to create a she shed paradise where you can bask in its romance and treasured moments.
6. Have Lots Of Plants And Greenery
Placing plants in your she shed is a wonderfully romantic way to create your own personal oasis and shed decor. Choose an array of succulents, a garden of vibrant flowers, or simply a single item of greenery to bring the outdoors in. Or plant giant hostas outside.
Plants are sure to make your she shed that much better. The feeling of coming home to the quiet solitude, combined with the delightful beauty of nature, will make any she shed feel warm and inviting.
Plants are essential for creating an ambiance of romance in any she shed and their calming influence brings a peaceful atmosphere for moments of reflection and relaxation.
7. Consider Natural Light
A she shed is a special place for self-care and reflection that deserves the perfect romantic ambiance. While she sheds come in all shapes, sizes and directions, the ideal she shed is oriented to take advantage of the natural beauties of each season.
To achieve this, try to arrange your she shed facing east, so it can bask in the soft morning light. From sunrise to sunset, simply stand back and marvel at how your she shed comes alive every morning, allowing you to feel even more connected to nature than before.
This is especially important if you are using your shed as crafts or art studio.
8. Turn A Garden Shed Into A She Shed
Turning a garden shed into a she shed is definitely one of the most romantic things to do. Not only is it an enjoyable DIY project, but there's something special about creating a cozy hideaway by hand. You can really turn it into something with rustic charm.
Especially if it's just for you! In no time at all, you could transform your garden building into an intimate she shed and make it your own private oasis - perfect for escape, reflection and relaxation.
All you need are some simple tools and materials, a dash of creativity and you'll have the she shed of your dreams in no time.
9. Big Fluffy Pillows
There is something especially romantic about a she shed - tucked away in the backyard or garden, these cozy hideaways are perfect for crafting unique and customized DIY havens.
One of the best ways to give a she shed some life and turn it into a special space is filling it with lots of inviting and luxurious pillows! Linen and velvet textiles can instantly give a she shed an air of sophistication, while bright pops of color can bring personality.
Heirloom pillows can create instant nostalgia, making them the perfect she-shed accent to remind you of favorite family members or locations.
Layer your she shed with as many pillows as your heart desires - after all, it's your own personal getaway, so it should reflect all that inspires you.
10. Use A Daybed
A she shed is a perfect place for relaxation, designed to be your own little haven away from the world.
Adding a day bed to create even more of an oasis can give the she shed an extra romantic touch. Cuddle up on the day bed with a comfortable blanket and cozy pillows, while curling up with a good book and letting time pass away.
Lounging in the she shed with its beautiful surroundings allows your creative juices to flow as you take a break from reality. The day bed also provides comfort when taking breaks from projects while continuing to let inspiration lead the way.
11. Charming She Shed
This she shed was made by turning an old wood shed into a private oasis.
12. Upcycle Vintage Doors And Windows
When you are ready to get away and escape into your own world, a she shed furnished with upcycled vintage doors and windows can be the perfect place.
The time-worn wood frames can evoke a romantic sensation, transporting your mind to the yesteryears of the past. Imagine sipping on a glass of chardonnay from the day bed in front of a French provincial door with intricate carvings that were crafted generations ago.
Upcycling vintage doors and windows in yourshe shed will make it a special place you never wants to leave. 
13. Rugs For She Sheds
Creating a she shed is an opportunity to let your romantic side out, adding touches of beauty and relaxation to your outdoor living space. Rugs can be a perfect accent piece to add warmth and coziness to a she shed or cottagecore ideas.
Not only do they provide luxurious style, but the softness underfoot also enhances the she shed's cozy atmosphere making it even more inviting.
Furthermore, if you are using the she shed for crafts or other activities that need a well-defined workspace, rugs can define special work areas and stylize them in any way you'd like.
14. Sheer Curtains
She sheds are the perfect way to bring peace and harmony to an outdoor space. Women love she sheds because it offers a chance for them to escape from their busy lives and decompress in their own private paradise.
Using sheer curtains brings in a romantic and airy feeling to your aesthetics.
15. A Place To Journal
A she shed is like a personal haven tucked away in the backyard or garden, cozy enough for one person or a few close friends.
Inside, she can relax with her favorite book, and enjoy a cup of tea while she enjoys the beautiful views that nature has to offer. Or write in a junk journal to remember special thoughts and events.
16. Use A She Shed For Hobbies
The beauty of she sheds is that they provide privacy without isolating their owner from the rest of the world. From within you can still hear birds chirping, wind rustling through the trees, and children playing in the distance.
A she shed also allows one to be more creative and productive without distractions.
In between reading sessions you can work on a project you've been meaning to start – writing, painting, sewing, knitting; whatever you choose. You'll find that she is able to clear her head and think more clearly when she takes regular breaks away from it all.
Reasons why she sheds are so popular:
A place to relax and think: Sheds provide a place where one can enjoy their own thoughts in an space that's all your own.

Additional space: Sheds can provide additional space for hobbies, workshop, or storage.

Aesthetically pleasing: They can be a visually appealing addition to a backyard or garden. They can also be used for a potting shed with a cottage style feeling to it.

Customization: Sheds can be customized to meet specific needs and preferences, such as size, color, and style.
Ultimately, a she shed offers women a unique way to relax and rejuvenate in privacy and peace.
It provides an opportunity for her mind to wander while being surrounded by nature's beauty or vegetable garden - something we all need more of in our lives.
Whether you go there to read, write, paint or just reflect, you will find herself coming back for more time and time again.
A she shed is a special place where one can let go and be the best version of herself - and that is why women love she sheds.😊
In conclusion:
Not only are they a delightful and romantic addition to any garden, but she sheds can provide much-needed extra space for storing tools and gardening equipment, or even an area where one can sit in solitary relaxation to enjoy their outdoor surroundings.
With the right elements such as cozy furniture, rustic accents, and beautiful plants and trees, she sheds will surely become a beloved centerpiece of any garden.
Please save a pin to your Pinterest boards, we would really appreciate that.
More articles
How to dry flowers inside books
Leave a comment
Comments will be approved before showing up.