PAINT PENS | Best Paint Pens For Your Project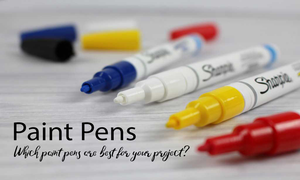 Paint pens are an amazing crafting and art tool to have, and there are many different paint pens you can get. But which paint pens and paint markers are best for your art or craft project?
Sharpie is a household name. They are often associated with your everyday markers and your permanent black magic markers, but Sharpie makes so many different art and craft supplies, including oil and water-based paint pens, and they are one of our favorite brands of paint pen.

What is a paint pen?

A paint pen is a maker-like tool that uses a paint instead of ink base to saturate the tip of the pen, allowing for precision application of water-based or oil-based paints for fine lines, writing, tiny details, signatures and more.
Paint pens can be used for:
fine lines
writing on canvas or on your medium
mixed media
outlining
signatures
on cured resin (agate or geode lines)
adding details to packaging
on handmade jewelry
on diy ornaments
for Easter egg decorating
more
What materials can paint pens be used on?
Paint pens can be used on the following materials and surfaces:
paper
cured resin
rocks
stones
plastics
glass
canvas
wood
cured clay
Paint pens are versatile and are used for many different purposes aside from the arts and crafts community. Beekeepers even use them to mark their Queen bee's!
Here is a video review of the Sharpie paint pens:
There are many different brands of paint pens out there to purchase, but our two favorite paint pens are the Sharpie paint pens and the Posca paint pens. You may see us using either of these paint pens in our article photos and our tutorials on our YouTube channel, especially in our resin art we have been doing lately!
Check price of Sharpie paint pens on Amazon here
Check price of Posca paint pens on Amazon here
Using paint pens to add details in art and craft projects is a fun way to finish your work or bring it to life.
We hope you found this article useful, be sure to save the Pin below to your Pinterest board of choice to find us again. We would appreciate that!
Happy creating.
Leave a comment
Comments will be approved before showing up.