29 BEST Jewelry Making Supplies For DIY Jewelry [2023]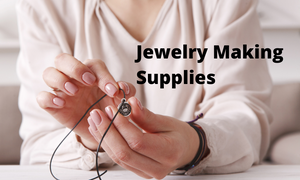 Here are the best jewelry making supplies and shops for when you want to make your own jewelry from scratch.
Welcome to this article on the best jewelry making supplies for DIY jewelry. If you are someone who loves to create and customize jewelry, then you know that having the right tools and materials can make a huge difference in the quality and ease of your creations.
This list of for those of you who are just starting out and for seasoned jewelry makers. This list will provide you with all the essential supplies you need to take your DIY jewelry making to the next level.
From pliers and wire cutters to beads and clasps, this list covers everything you need to make stunning pieces of jewelry. We've taken care to include items that are both affordable and high-quality.
BEST JEWELRY MAKING SUPPLIES
1. Glamour Glaze Photo Pendant Sealer
This Annie Howes jewelry glaze is amazing, it will dry to a super clear raised finish so it's a great alternative to resin for jewelry making. So when you are needing a glaze for doming that does not have a ton of bubbles, you might want to try this out.
This jewelry glue is quite thick so it's easier to control when you are pouring it onto your scrabble tiles or other surfaces. This will dry to a super clear raised finish.
2. Plier Sets For Jewelry Making
Pliers set: A set of pliers, including round nose, chain nose, and flat nose, is essential for any jewelry maker to bend, shape, and manipulate wires and metal.
3. Wire Cutters
To cut wire and metal, you'll need a good pair of wire cutters that can handle the thickness of the materials you're using.
4. Jewelry Making Kits
If you are just getting started you might want to try a polymer clay kit that has some beginner tools. Check out the video below to see exactly what comes with these kinds of kits.
5. Beading Mat
A beading mat is a soft, non-slip surface used to hold beads and other jewelry-making components in place while you work on a project. The mat helps prevent beads from rolling around and getting lost, which is especially important when working with small beads.
It also provides a cushioned surface that helps prevent beads from getting scratched or damaged during the beading process.
6. Pendant Trays
A pendant tray, also known as a bezel pendant, is a jewelry finding that is used to make pendants.
It is a flat metal tray with a shallow depression in the center that is designed to hold a small decorative item, such as a cabochon, a photo, or a small piece of artwork.
The tray is usually made of metal, such as brass, copper, or silver, and comes in a variety of shapes and sizes, including round, oval, square, and rectangular.
7. Jewelry Glue
Jewelry glue is a type of adhesive that is specifically designed for use in jewelry making. It is used to bond different types of materials, such as metal, plastic, glass, and stone, to create finished pieces of jewelry.
Jewelry glue is different from other types of adhesive because it is formulated to be strong and durable, but also flexible and resistant to moisture and temperature changes.
It is also designed to dry clear, which is important when working with transparent or translucent materials.
8. Annie Howes Resin For Jewelry
The Annie Howes Luxe Resin is an epoxy resin. If you have not used resin before, you might want to give it a try because it's what jewelry resin artists use to get that crystal clear finish.
Resin is totally waterproof and has a durable glass like finish. If you are going to try to use resin in your jewelry making or crafts, and are using a photo or inkjet printable image, then you will want to also pick up their Glamour Seal too so that your images won't bleed.
9. Resin Obsession Jewelry Resin
Resin jewelry has become increasingly popular in recent years due to its versatility and unique aesthetic. When mixed and poured into molds, it hardens into a durable, glossy finish that can mimic the look of glass or other materials.
One of the main advantages of resin is its versatility. It can be used to create a wide range of jewelry pieces, including earrings, necklaces, bracelets, and rings.
It can also be combined with different materials, such as wood, flowers, or glitter, to create unique and personalized pieces.
Always use a proper respirator when using resin. We have a helpful article about resin safety.
10. Jewelry Polishing Cloth
Using a jewelry polishing cloth that is lint-free is important for several reasons. First, lint and other fibers can get caught in the crevices and small spaces of jewelry pieces, which can be difficult to remove and may damage the jewelry over time.
Lint-free cloths help prevent this by leaving no residue or fibers behind after polishing.
11. Beading Scissors
Beading scissors are small, sharp scissors that are specifically designed for working with beads and other small components. They are used to cut thin wires, cords, and threads, as well as to trim excess material from beads and other components.
One of the key features of beading scissors is their small size and sharp blades, which allow for precise cutting of even the smallest materials. They are also designed to be comfortable to use, with ergonomic handles that make them easy to grip and maneuver.
12. Scrabble Tiles For Jewelry
These tiles can be used in so many ways so they are definitely something you might want to take a closer look at. They come in a jewelry kit of 100 pieces.
You can use these tiles for jewelry making, magnets, and you can also make a mosaic with them too. These have a super smooth finish and are made from wood. This shop has a large selection.
13. Domino Blanks For Domino Jewelry
Domino Jewelry Sellers On Etsy
Domino jewelry has become popular in recent years due to its unique and creative aesthetic, as well as its versatility in terms of design and materials.
Dominoes are small, flat rectangular pieces of plastic or wood that are commonly used in board games. When transformed into jewelry, they can be decorated and customized in a wide range of ways to create unique and personalized pieces.
One of the main advantages of making domino jewelry is the ease of customization.
Dominoes can be decorated with a variety of materials, such as paint, ink, stamps, or decoupage, to create different colors, patterns, and textures. This allows for endless possibilities in terms of design and personalization.
Domino Pendants by Moonlight Art Parlour
14. Photo Pendant Kits
A jewelry kit is perfect if you want to try making your own jewelry and don't have the supplies yet. Kits are also great for gifts, or if you want to see if you actually like making your own jewelry before diving in and spending money on supplies.
This Annie Howes jewelry kit will make 25 pendants. It has everything you need to start making your own custom jewelry the moment it arrives.
15. Metal Stamp Set For Jewelry
If you want to try your hand at making hand stamped jewelry, then this stamp set has everything you need to get started the moment it arrives.
Professional quality and perfect for personalizing jewelry and other craft items like polymer clay and more. It comes in a compact size and will fit easily on your desk or for putting into your craft bag for when you are on the go.
16. Polymer Clay
Polymer clay is a type of synthetic clay that is popular for use in jewelry making due to its versatility, durability, and wide range of colors and finishes. It is a pliable material that can be molded and shaped into different shapes and designs, making it ideal for creating unique and personalized jewelry pieces.
Polymer clay can be used to make a wide variety of jewelry, including earrings, necklaces, bracelets, and rings. It can be combined with other materials, such as beads, wire, and metal findings, to create more complex and intricate designs. Polymer clay can also be layered, textured, and blended to create different effects and finishes.
17. Alcohol Inks
Alcohol inks are a type of highly-pigmented, fast-drying ink that are commonly used in jewelry making to create colorful and vibrant designs. They can be used on a variety of surfaces, including metal, glass, plastic, and polymer clay.
One popular technique for using alcohol inks in jewelry making is to create colorful backgrounds or patterns on metal blanks or pendants. To do this, a few drops of alcohol ink are applied to the metal surface, then spread and blended using a felt applicator or brush.
This can create unique and abstract designs that can be used as the base for a pendant or other jewelry piece.
We have a helpful articles about the best alcohol ink brands.
18. Assorted Gemstone Lots
Gemstone lots are a great option for jewelry makers who want to save money on their supplies. Gemstone lots typically include a variety of different gemstones, often sold in bulk or at a discount price. This can be an affordable way to build up a collection of gemstones without having to purchase each stone individually.
Gemstone lots can also be a great way to experiment with different types of gemstones and colors, allowing jewelry makers to try out new designs and techniques without investing too much money upfront.
This can be especially beneficial for beginners who are still developing their skills and want to explore different styles and materials.
19. Loose Bead Lots
Bead lots, which are bundles of beads sold in bulk or at a discounted price, can be used in a variety of different ways to create unique and personalized jewelry pieces. Here are a few ideas:
Bracelets: Bead lots can be used to make beaded bracelets in a variety of styles, such as stretch bracelets, woven bracelets, or wire-wrapped bracelets. Mix and match different bead shapes, sizes, and colors to create one-of-a-kind designs.

Necklaces: Bead lots can also be used to create statement necklaces or delicate pendant necklaces. Combine different bead shapes and colors to create interesting patterns and textures, or layer different strands of beads for a more complex design.

Earrings: Bead lots are a great way to create custom earrings in a variety of styles, such as dangle earrings, hoop earrings, or stud earrings. Mix and match different bead sizes and colors to create unique designs that complement your personal style.
20. Beading Thread
Beading thread is a type of thread that is specifically designed for stringing beads. It is typically made from a synthetic material, such as nylon or polyester, and is strong and durable enough to hold the weight of the beads without breaking.
One of the primary functions of beading thread is to provide a strong and flexible base for beaded jewelry. It is used to string together individual beads and create a strand of beads that can be used in a variety of jewelry designs, such as necklaces, bracelets, and earrings.
The thread is typically thin enough to pass through the tiny holes in most types of beads, allowing them to be strung together easily.
21. Headpins
Headpins are a type of jewelry finding that are commonly used to create pendants, earrings, and other beaded designs. They are thin, straight wires with a flat head on one end and a pointed tip on the other.
22. Jump Rings
Jump rings are a type of jewelry finding that are commonly used to connect different components together, such as charms, pendants, clasps, and chains. They are small, circular rings that are typically made from metal wire and are available in a range of sizes, thicknesses, and finishes.
23. Jewelry Wire
Jewelry wire is a type of wire that is specifically designed for use in jewelry making. It is typically made from metal, such as sterling silver, gold-filled, copper, or brass, and is available in a variety of gauges, or thicknesses.
Jewelry wire is used for a variety of purposes in jewelry making, such as stringing beads, creating wire-wrapped designs, and making components such as ear wires and clasps. It can be bent, twisted, and shaped into a variety of forms, making it a versatile and essential material for many types of jewelry designs.
24. Dried Flowers
Dried flowers can be used in a variety of ways in jewelry making to create unique and beautiful pieces. Here are a few ideas:
Resin jewelry: Dried flowers can be embedded in resin to create colorful and organic-looking pendants, earrings, and bracelets.

Beaded designs: Dried flowers can be strung onto beading wire or thread and combined with beads to create beautiful and unique beaded jewelry designs.

Wire-wrapped designs: Dried flowers can be wire-wrapped to create unique and intricate designs, such as wire-wrapped pendants or earrings.

Pressed flower jewelry: Dried flowers can be pressed and preserved between glass or resin to create delicate and elegant jewelry designs.
25. Microfleur For DIY Flowers
Or you can try your hand at making your own dried flowers for jewelry with a microwavable flower dryer.
To learn more about how to dry your own flowers, head on over to our article how to dry flowers inside books.
26. Wire Wrapping Kits
Wire wrapping kits are a type of jewelry making kit that include all the necessary materials and tools to create wire-wrapped jewelry designs. These kits typically include a variety of wire gauges, beads, and tools such as pliers, wire cutters, and mandrels.
Wire wrapping is a technique that involves wrapping wire around beads or other objects to create intricate and decorative designs. This technique can be used to create a wide range of jewelry designs, including pendants, earrings, bracelets, and more.
27. Wood Blanks For Jewelry
There are many ways to use wood blanks for jewelry making. You can paint them or pour resin onto the, Another way is to use them for DIY photo pendant blanks.
28. Train Case For Craft Shows
A makeup train case can be a great option for storing and transporting jewelry for craft shows and for storage. It's also a good place for tools like metal stamping and jewelry kits.
Train cases are designed to have multiple compartments and sections to keep small pieces organized, and this feature can be useful for organizing and displaying jewelry during craft shows.
29. Rolling Storage Organizers
Carts with wheels can be easily moved around the room, allowing you to quickly and easily access your jewelry supplies as needed. This can be especially useful if you have a large craft room or need to move your supplies to different areas of the room for different projects.
In Conclusion:
Creating DIY jewelry is a fun and rewarding activity that allows you to express your creativity and personal style. With the right supplies, you can bring your vision to life and make unique pieces that reflect your personality.
We hope that this list of the best jewelry making supplies has been helpful in guiding you towards the tools and materials you need to start or continue your jewelry making journey.
Remember to experiment with different techniques and materials, and most importantly, have fun! Happy jewelry making!
More Crafting Articles
✅ Do you have a jewelry making Pinterest board? Here is a Pin we made for you. 
Leave a comment
Comments will be approved before showing up.