HTVRONT: Best Place To Get Heat Transfer Vinyl & Accessories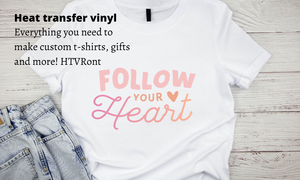 There are so many places to get heat transfer vinyl these days. It can be overwhelming trying to figure out where the best place is to buy it. That's why we are here to share to share an amazing place where to buy heat transfer vinyl and accessories.
As a DIY enthusiast, you know that the best crafts involve using the best materials. The good news is that you can get everything you need online. And we found a place that is dedicated to heat transfer DIY crafts and supplies.
HTVRONT offers top of the line high quality vinyl products. Their website offers heat transfer vinyl and also accessories like transfer tape, SVG files and presses.
You can also find a ton of helpful information and resources all about heat transfer and printing in their education section on their website. You can create your own custom clothing, gifts and many DIY projects that will keep you very busy indeed!
Top 11 Products From HTVRONT
1. Heat Transfer Vinyl
Looking for a fun and creative way to add some personality to your next craft project? Heat transfer vinyl is the perfect solution! With tons of colors and designs to choose from, heat transfer vinyl is a great way to add some pizzazz to anything from t-shirts to tote bags.

Heat transfer vinyl is easy to use too - just cut out your design, weed away the excess vinyl, and then apply it to your project with a heat press or household iron. And there's no need to worry about the vinyl peeling away or fading over time, because heat transfer vinyl is durable and long-lasting.
2. Sublimation Paper
Sublimation paper is a must have when making heat transfer crafts. This heat transfer vinyl is perfect for adding your own unique touch to any project.
Whether you're looking to create custom T-shirts, personalized water bottles, or just about anything else, their sublimation paper is sure to help you achieve the look you're after.
Their sublimation paper is very quick to dry and will give you excellent print quality.
3. HTV Vinyl
Looking for a fun and creative way to personalize your DIY projects with super saturated colors and designs? Check out their large selection of HTV vinyl. With tons to choose from, you can easily add your own unique style to any project.
Make your own custom handbags, revamp an old piece of furniture, or simply adding some flair to your wardrobe, iron on vinyl is the perfect way to do it.
4. Heat Press Machine
Iron on vinyl will give you projects that extra special touch. With tons of colors and patterns to choose from, you can easily add your own unique style to any project.
Did you know that HTVRONT often has special deals and discounts for their customers? You can even become a member to earn extra points & exclusive rewards when you shop their online store.
5. Permanent Vinyl
Vinyl is one of those things that just makes life better. Whether you're using it to spruce up your home décor, or add a personal touch to your car, this permanent adhesive vinyl is sure to make life more fun.
And because it can be applied to any smooth surface, both indoors and out, you'll always have the perfect spot for it. Plus, it remains sticky for an extremely long time, so you don't have to worry about it losing its stickiness.
6. Printable Vinyl
There are no limits to what you can create with this versatile product. Whether you're looking to add some personal flair to your car, create a one-of-a-kind gift for a friend, or just want to have some fun experimenting with different design ideas, printable vinyl is the perfect solution.
And the best part is that it's so easy to use! Simply print your design onto the vinyl using a regular printer, then cut out and apply to any smooth surface. It's that simple! 
7. Transfer Tape For Vinyl
Make the job a lot easier with their transfer tape. This stuff is designed to help you get those graphics on exactly right, with measurements printed right on the roll so you can cut it perfectly.
Plus, they've got a range of sizes to choose from, so you're sure to find one that fits your project. Just stick it on and peel off the backing paper.
8. Adhesive Vinyl
All adhesive vinyl is the perfect solution for when you need to add a little personality to your home décor or personal belongings. Their premium self-adhesive vinyl comes in a variety of colors, patterns, and finishes, so you can find the perfect look for your project. 

All adhesive vinyl is great for wall paintings, cups, mugs, wooden items, and more. Add a touch of color to plain white walls, or personalize mundane household items with your favorite design. The possibilities are endless.
11. Holographic Vinyl
Looking for something special in vinyl? Check out our holographic vinyl! It comes in beautiful colors like silver, gold, pink and green. Plus, it's permanent so you can be sure your project looks great for years to come.
Here's three reasons why holographic vinyl is trending:
1. Holographic vinyl will add an eye catching glimmer effect to your projects and will change colors depending on how the light hit it.

2. It's resistant to fading so it will last for a very long time.

3. You can use it on many projects including glass, wood, ceramics and tumblers.
10. Easy Press
This heat press machine is perfect for making your own custom clothing! With it, you can easily apply vinyl designs to t-shirts, hats, and more.
Plus, the machine is easy to use and comes with a variety of different settings for crafting the perfect design.
Their heat press heats up quickly and will give you even heat dispersion for a quality end product.
11. Mini Heat Press
Sometimes you might need a small press. The mini heat press is the perfect tool for when you need to get into smaller heat press items like socks, masks or small ornaments or baby clothing.
It's easy to use and delivers great results every time, so you can get your projects done quickly and easily.
Are you ready to get into vinyl crafts?
Order HTVRONT products in their Amazon Shop 
We hope you find the perfect heat transfer ideas for your craft projects. Please save a pin to your craft and heat transfer idea boards.
Leave a comment
Comments will be approved before showing up.