Our 5 FAVORITE Products From JDiction: Resin DIY Ideas!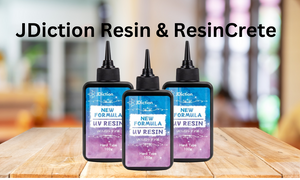 Hello crafters! 
If you are a resin artist, or you are thinking of getting into epoxy resin art, we have a brand you are going to want to check out.
They make several different kinds of resin and crafting products to create many different kinds of the most gorgeous works of art, as well as handy resin tools that make resin crafting easier.
Today, we are going to share our top favorite resin products from JDiction and introduce you to the brand as well.
Our Favorite JDiction Products
With the slogan "by crafter, for crafter", this company makes its products with their customers in mind, which is what drew our attention to the company. So, who is JDiction?
Who Is JDiction?
See all JDiction products here
JDiction is an epoxy resin brand that was founded in 2018. They established themselves in the hopes of pursuing an innovative epoxy formula for the highest quality of resin for craft products
They have been working with the largest epoxy resin manufacturer in the world and pride themselves on sourcing the purest resins to achieve the best value for their products.
Here's what JDiction has to say about their products:
Our products have gained reputation among beginners, resin crafters and artists with its professional-level quality, crystal clear results for stunning surface of artwork.  As resin crafters ourselves we highly value the safety, long-lasting effect of anti-yellowing feature of our product. 
In every process from material sourcing to end customer, we are implementing high standard of quality control to achieve stability and reliability.
JDiction started off as a husband and wife team. Jack and Thelma met in Brooklyn and shared a passion for resin art, but hated how epoxy resin always turns yellow.
They began their company with the goal of creating a brand of resin that resists yellowing  as much as possible, and they have had great success after many trials, tribulations and testing of products.
JDiction is a word created from owner Jack's addition in resin crafts, and it aims to empower creativity with reliable and innovative products. We can relate!
They wanted every person to have that passion as well as the ability to create beautiful resin art and see their creations come to life, just how they visualize it.
Here are our favorite JDiction resin products.
See ResinCrete on JDiction here
ResinCrete is an resin product that is mixed in a 10:3 ratio by weight with water to give you an ultra smooth resin mix ready to pour into your favorite molds.
It is easy to work with ResinCrete, you simply add the right amount of water, then you add your color, pour the mixture into a mold and after 10-20 minutes remove the mold to reveal your masterpiece.
ResinCrete Features:
Water-based
Zero VOCs (Volatile Organic Compounds)
Odor-Free and BPA-free
Non-flammable and food-safe for peace of mind
Suitable for individuals with resin allergies and safe for children
Bubble-free results
Perfect for making coasters
Durable and heat resistant up to 392°F
Seal your creations to make them waterproof
An excellent gift option for birthdays, Christmas, Valentine's Day and more
ResinCrete comes in 3 different options: 
1kg
3kg
A ResinCrete kit (complete with everything you need)
See buying options on JDiction here
We also like that you can purchase the colorants specifically made for ResinCrete right from JDiction as well, with 10 different color choices in one kit.
2. JDiction Low Odor UV Resin
See JDiction's Amazon Storefront for UV Resin here
Attention resin jewelry artists! You have all of the choices of UV resin you could want here. From low odor UV resin, to a high viscosity UV resin to a high gloss UV resin (and more choices), all for a super great price.
This is a new resin formula! This is designed to make perfect resin creations with almost no odor. This formula is more environmentally friendly in terms of materials used. 
We prioritize your well-being by employing the safest manufacturing methods, resulting in a low-odor resin that is eco-friendly and offers a comfortable crafting experience.
The focus on this product is low odor, but in terms of the finish it dries to a bubble-free, high gloss finish.
3. High Viscosity UV Resin
This product was created based on feedback and suggestions from their own customers. The enhanced viscosity, which is 3700-3800 cps, offers a slower flow, making it perfect for doming, sealing and coating projects.
This is a very smooth-flowing, clear resin.
4. High Gloss UV Resin
Create a mirror-like finish with a brilliant surface with absolutely minimum bubbles using the high gloss resin formulation. It is also very yellow-resistant as there have been UV inhibitors added to make your resin less prone to fading and yellowing.
5. JDiction Epoxy Resin
See JDiction Epoxy Resin on Amazon here
Here is the epoxy resin by JDiction, and like the UV formulations, it comes with some choices depending on the project and finish you want!
Choose from the following epoxy resins:
High Gloss
Fast Curing
Crystal Clear
Deep Pour
Extra Yellowing Resistant by 3X
3X UV Protection
These are a resin you may choose for your resin table molds, river tables, coasters, 3D molds and more. 
These epoxy resins feature minimum odor, have zero VOC's, they are non-toxic, non-flammable, and offer a high quality product with a beautiful finish. 
The epoxy resin you need for your project will be a personal choice, and you can see all of the different epoxy resins on the JDiction Amazon storefront.
MORE RESIN RESOURCES
Resin Safety | Read About How To Use Resin Safely
Did you like this post? Please Pin it and share your find with others! 
Have a creative day!
Leave a comment
Comments will be approved before showing up.