BEST Pasta Making Gifts | 2023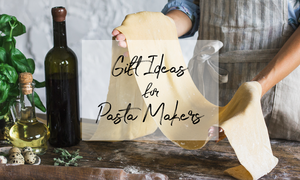 Do you have a pasta maker in your life? If so, you have come to the right place, as we are here to share the BEST pasta making gifts with you that you can pick and choose from to create your own custom pasta gift basket ideas with.
These pasta making gifts are unique, thoughtful and include useful tools that any pasta maker will love and appreciate. You might even find something for yourself while you are looking!
Let's get into it, here are the best pasta making gift ideas to give on their own or to add to your pasta gift basket idea.
BEST Pasta Making Gifts
1. Marcato Atlas Pasta Machine
There are so many hand crank pasta makers out there. We have researched which is the best hand crank pasta machine and took into account:
how easily the pasta dough moves through the rollers
how well the cutters actually cut the pasta noodles
How well the cutters separate the pasta noodles after they are cut
It is awfully annoying when you crank pasta noodles out and find yourself going through them by hand afterward to separate the noodles from a machine that does not cut properly.
Here is the best pasta making machine gift: the Marcato Atlas Pasta Machine.
You can purchase the Marcato Atlas Pasta Machine from Amazon and it is made in Italy! It also comes with a ten-year warranty. This hand crank pasta machine is referred to often by its nickname, the Ferrari Of The Pasta Machine World by Cook's Illustrated.
We're not playing around with toys here folks, this pasta machine means business and it is a fantastic price.
Just make sure when you clean your hand crank pasta machine (and this typically goes for all hand made pasta noodle machines) you don't use water. Instead, use a dry bristle brush to get the flour out of your pasta maker.
This pasta machine has so many add-on attachment options as well. The attachments include:
a capellini attachment
a ravioli attachment
a linguini attachment
a vermicelli attachment and more!
If you want to check this machine and all of the attachment options out, just click on the picture of it below.
Out of over 2000 customer reviews, this little number gets almost a perfect rating across the board and is sure to be a winner as a pasta making gift, or as the centerpiece in a pasta gift basket.
2.

KitchenAid Mixer and/or Attachments For Pasta Noodles
We are jumping over from the manual hand crank pasta machine to the automatic type. It is totally a matter of preference and how much time you like to spend on making your own pasta by hand.
When it comes to the automatic machine, the most highly recommended gift is the KitchenAid Mixer from Amazon and its attachments.
Many people also enjoy the simplicity of mixing all their ingredients together in this machine with the dough hook. It sure does make pasta noodle-making quick and easy!
What is great if you are shopping for a gift for a pasta maker, is that the KitchenAid mixer from Amazon has so many attachments that you can buy, so there is a lot of choice.
Our recommendation from our pasta making experience is the attachment for rolling out the dough and cutting it. For this, choose Amazon's 3 Piece Pasta Roller And Cutter Attachment Set.
This attachment will be absolutely loved if the person you are buying for has a KitchenAid Mixer. If you do a little recon though and discover the person you are shopping for has a Cuisinart Stand Mixer, here is a link for their pasta maker attachment. You can't go wrong with this gift.
3. Pasta & Ravioli Pasta Wheel Cutter
Here is one little tool that is small and transportable for travel and is also super easy to use. This is the Pasta & Ravioli Wheel from Amazon and you can use it on your rolled out pasta dough to make custom cut size pasta noodles, lasagna noodles, and ravioli.
The Norpro is a super affordable ravioli cutter and it has really fantastic reviews and is a highly popular choice of pasta making gifts and tools. 
4. Pasta-Making Bike Tool
A pasta bike is a fantastic tool to have on hand. It makes quick hand cut pasta and is great for travelers or campers who love homemade pasta on the road.
5. Cavatelli Maker
This cavatelli maker is a wonderful and fun pasta making gift idea. If your pasta maker can make the dough, roll it out smooth and cut it into strips, then they will love this tool. Simply feed the strips into the cavatelli maker and crank the lever by hand.
Watch as gnocchi's come flying out! Make sure to put a bowl under. And also make sure not to get this maker wet. This is something very important to note when looking at pasta making tools. Keep the water away. To clean, let them dry and dry brush the flour and excess dough off.
6. Gnocchi Making Board
A gnocchi board is a good way to get back to the basics.
This is the original gnocchi-making machine. There are wonderful YouTube video tutorials teaching the traditional way of making gnocchi the way it used to be done. Plus, this gnocchi board is a wonderfully affordable option for a pasta making gift.
This specific gnocchi board is made by Fantes, which is the same company as the Cavatelli machine we recommended, and it is made in Italy with all natural beechwood.
7. Ravioli Maker
If you are looking for that perfect tray to make homemade ravioli in, you will want to check this out. Roll out the pasta dough, press it into the molds and fill with whatever filling you want to make your ravioli with.
Ravioli can be stuffed with:
mushrooms
sweet potato
roasted butternut squash
spinach
ricotta
lobster
goat cheese
artichoke
prawn
leek
any meat or pasta sauce
The choices for ravioli stuffing are really endless, you can even make dessert ravioli with plums, peaches or apricot and cheeses or chutneys.
8. A Pasta Drying Rack
his little tool is collapsible to the point where it actually folds down very small for storage. It might be important to note that so many pasta makers do not have an actual pasta drying rack; instead, pasta is hung from coat hangers and make shift dryers! This would be a fantastic pasta making gift.
9. A Pasta Noodle Straining Pot
This pot set cooks the noodles and strains them, plus you can also use it for steaming foods and vegetables when you are not using for your pasta making needs. This is a really beautiful set that can be delivered right to your door from Amazon.
10. A Parmesan Cheese Grater
When serving homemade pasta, there is nothing like setting out a block of real parmesan cheese.
For shredded Parmesan cheese, you can get a slender, long cheese grater that you can easily run the block of cheese over to get your grated cheese. Plus, it can be used further for chocolate, coconut, lemon zest and more.
Alternatively, there is the restaurant-type of cheese grater, where you put small chunks of cheese inside and use the hand crank tool to get a large amount of grated cheese to your food quickly.
Now, for those of you who love those huge flakes of delicious Parmesan cheese, you can have a look at this Steel Cheese Slicer by Boska Holland from Amazon.
This grater makes a pasta or salad dish look absolutely stunning with gorgeous pieces of shaved parmesan on top.
We hope you enjoyed this article! And be sure to pin it now to come back to it again later. We would appreciate that.
Have a delicious day!
Leave a comment
Comments will be approved before showing up.