21 Best Holiday SUGAR COOKIE Decoration IDEAS!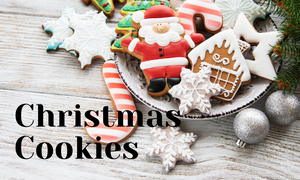 Welcome to a world of sweet creativity and festive delights!
If you're looking to elevate your sugar cookie game and add a dash of magic to your baking adventures, you've come to the right place. 
Decorating Christmas cookies is a beautiful tradition that evokes memories of shortbread and sugar dough and sipping hot cocoa.
Making and decorating cookies is the quintessential  kick-off tradition signaling the start of the Christmas season.
There are so many beautiful Christmas cookie idea for decorating!
Here are some of our favorite sugar cookie decorators and some ideas to help get your started with your own sugar cookie decorating.
Sugar Cookie Decorating Ideas
1. Snow Ornament Cookies by Cooking Classy
@cookingclassy on Instagram
These Christmas sugar cookies are simply elegant. We love the blue color collection and can even see some Tiffany blue peeking out.
Head on over to Jaclyn's Instagram to see more cookies and recipes.
2. Green Trees & Snowmen Cookies
3. Stocking Sugar Cookies
4. Christmas Tree Sugar Cookies
5. Whimsical Christmas Cookies by Sweetopia
@sweetopia on Instagram
Just love everything about these whimsical cookies.
If you want to learn more about how to make your own sugar cookies and see some easy and fun DIY tutorials then head on over to their website to learn more.
6. Pastel Christmas Cookies by Random Acts Of Pastels
@randomactsofpastels on Instagram
These elegant and pastel Christmas tree cookies look just as sweet as they taste and the minimalist look is total eye candy.
Check out their Instagram if you love pastels.
7. Santa Beard Sugar Cookies
8. Small Christmas Sugar Cookies
9. White And Gold Christmas Sugar Cookies by Stoneybrook Trail
@stoneybrooktrail on Instagram
If you love white and gold, then you will fall in love with these Christmas sugar cookies just as much as we did.
Karen from Stoneybrook Trail gives back by donating her cookies to many local charity events. Way to spread the Christmas spirit Karen!
10. Camper, Santa & Stocking Christmas Cookies by West Lake Bakes
@westlakebakes on Instagram
This little camper with the tree is so totally adorable and we just can't get enough of the other amazingly decorated cookies on Kristen's Instagram.
She has so many Christmas cookies that it was really hard to choose just one photo to share.
11. Santa Face Sugar Cookies
12. Green & White Christmas Cookies by The Cookie Concierge
@cookieconcierge on Instagram
The Cookie Concierge serves up the most delightful Christmas cookies!
We especially love these mint green and white snowflakes and Christmas trees.
Just imagine what they must taste like. Yummmy.
13. Christmas Cookies by Tiny Heart Bake Shop
@tinyheartbakeshop on Instagram
Krista, the owner of Tiny Heart Bake Shop is a pastry chef that is very passionate about decorating cookies and it shows! Her decorating techniques are just beyond good.
And guess what! You can even browse their Etsy shop here to find your favorites.
14. Affirmation Sugar Cookies

15. Snowman Hot Cocoa Cookies by Your Darling Bakes
@yourdarlingbakes on Instagram
These cocoa snowmen are adorable! If you love all things cookies and baking then head on over to their Instagram for more cookie inspiration.
16. These Christmas Cookies by The Cookie Rookie
@thecookierookie on Instagram
We fell in love with these Christmas cookies the moment we saw them. Our favorite has to be the little Christmas angel. And look at that little mouse. So cute!
17. Christmas Cookie Collection by Kiana's Cookie Creations
@kianascookiecreations on Instagram
Look no further if you love serious cookie eye candy. Kiana loves to decorate cookies and it shows! Her decorating style is simply amazing.
18. Hand Painted Christmas Cookies by The Ginger Bites
@thegingerbites on Instagram
Each amazing cookie hand-painted in the most delightful way! If you want to see some seriously addicting cookie creations then The Ginger Bites has everything you are looking for and more!
19. Kawaii Holiday Christmas Cookies by The Cookie Confectionery
@the_cookie_confectionery on Instagram
These totally adorable faces are so cute. If you want to see more like these, then visit their Insta because their feed will make you feel all cozy and warm inside!
20. Black & White Christmas Cookies by Marla's Cookie Co.
@marlascookieco on Instagram
If you want to see the most amazing Christmas cookie designs then you will be in cookie heaven when you go through the pictures on their Insta feed.
Not only can you get your cookie fix there, but you can also take a class to learn how to make your own beautiful cookie designs.
21. Pastel Sugar Cookies
Tips For Decorating Sugar Cookies
1. Prepare a Smooth Canvas:
Before diving into decorating, ensure your sugar cookies have a smooth surface. Roll out the dough evenly and use quality cookie cutters for clean edges. This provides the perfect foundation for your artistic creations.
2. Royal Icing Consistency is Key:
Achieving the right consistency for your royal icing is crucial. For outlining, use a thicker icing, while a slightly thinner consistency works best for flooding. Experiment and find the balance to create intricate designs without compromising the cookie's texture.
3. Layer Colors for Dimension:
Add depth and dimension to your designs by layering different colors of icing. Allow each layer to dry before adding the next to prevent colors from bleeding. This technique can turn simple shapes into visually stunning and multi-dimensional masterpieces.
4. Experiment with Various Decorating Tools:
Expand your decorating toolkit beyond just piping bags. Try using toothpicks, brushes, or even edible markers to add fine details and textures. Different tools offer unique effects, allowing you to express your creativity in diverse ways.
5. Patience is a Virtue:
Let your decorated cookies dry completely between each step. Rushing the process may lead to smudged designs or uneven textures. Exercise patience, and you'll be rewarded with beautifully decorated sugar cookies that are almost too lovely to eat.
Whether you're a seasoned cookie decorator or just starting, these tips will help you achieve professional-looking results. Enjoy the journey of transforming simple sugar cookies into edible works of art!
We hope you found your favorite cookie decorator!
More Helpful Articles
Please save a pin to your Christmas boards
Leave a comment
Comments will be approved before showing up.