10 Steps To Properly Wash A Blythe Dolls Hair [2024]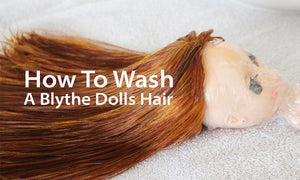 This is how to wash your Blythe doll hair. Blythe dolls are a great addition to any serious doll collector, and their hair can often get tangled.
In this blog post, we will teach you how to properly wash your Blythe doll's synthetic hair.
You probably know that your Blythe dolls need to be carefully washed in order to keep them looking nice. Blythe dolls are very pricey so it's important that you are washing their hair properly without ruining their faceups.
For those who have a very expensive Blythe doll or a custom Blythe that has a blythe doll faceup, then you might not want to wash her hair at all. The best thing to do is to give the hair a good brushing with a soft brush so that you do not damage her hair.
If you are washing a blank Blythe doll or just want to give your doll a spa day because the Blythe doll hair is greasy, you can either take the top of her hair right off of the doll by removing all of the screws and mechanisms.
Or very carefully give her a spa day with the head on. It just depends on what you want to do here.
In this DIY tutorial, we will tell you how to wash your Blythe doll hair while keeping it on your doll. 
IMPORTANT: Keep in mind that these steps are for a Blythe doll's hair that is from the factory which is synthetic. Do not do this with natural hair or mohair. Mohair should only ever be washed in cold water. Check with the person who customized your Blythe doll first before washing the hair and follow their instructions.
HOW TO WASH A BLYTHE DOLLS HAIR FOR A SPA DAY
Step 1: Remove all of your Blythe dolls clothing
Carefully remove the clothing and any shoes or attachments like scarves or accessories. If your Blythe doll has earrings or necklaces, also remove those too.
Step 2: Wrap the body of your Blythe in a plastic bag for protection
You can use a ziplock or saran wrap. Make sure no water can get into the moving parts. If you have a housecoat for your Blythe doll, you can now wrap that overtop. This is great if you are taking photos of your doll's spa day.
Make sure the pull tab is underneath the plastic wrap so that it doesn't get wet.
Check Prices For Blythe Housecoats On Etsy
Step 3: Carefully cover your Blythe dolls face with plastic wrap
Be very cautious here! If you have a custom doll that has not been properly sealed, you can ruin the faceup. If you are not sure, contact the customizer to ask them specifically what you should do. If anything touches your doll's face, it can ruin your faceup.
If you are sure that your faceup will be ok, or you are using a factory doll that has not had any faceups then continue.
Also make sure you are not ruining her eyelashes when you put on the plastic wrap.
Make sure the plastic wrap is nice and tight and goes all the way up to the scalp. If you have a factory doll with the factory makeup, just prevent water from going into her eyes by covering her face up with a towel.
Step 4: Brush the hair with a detangle brush
Try to get as many tangles out as you can without pulling or tugging the hair. Remember, this is synthetic so you can easily stretch or pull it too hard.
Step 5: Get a bowl and pour in some high quality fabric softener
Check Price For Free & Gentle Softener On Amazon
This is the best softener to use because of the synthetic nature of the doll hair. Pour about two to three cups of the fabric softener into the bowl and then gently put the hair into the bowl.
The hair should start soaking into the softener. Make sure all of the hair is covered. Gently work the softener into the hair until it's completely saturated.
Step 6: Leave the softener in the doll hair for at least 1 hour to soak
The longer you leave the conditioner in, the easier it will be to get out the tangles.
Step 7: Gently comb the fabric softener through the hair with a wide tooth comb or detangle brush
After your Blythe hair has been sitting for at least an hour, you can now gently brush the doll's hair. The hair should be more smooth and easy to get out the tangles. Any larger tangles can be gently worked out with your hands and fingers.
Step 8: Rinse your dolls hair
The best way to do this is under the tap with warm water. Make sure you get out all of the softener really well. Keep rinsing until the hair water runs totally clear. 
Step 9: Gently brush the doll hair into the position you would like it to dry in
The best way is to let the hair dry naturally on a towel. Using a blow dryer on too high of a setting can ruin the hair.
Look how gorgeous her hair is now. This treatment really helped with the tangles.
Step 10: Once dry, brush out the hair with a soft detangle brush and style as desired
Carefully brush her hair for the final time to make it smooth and glossy. You can now style her hair or put it up.
SUPPLIES FOR WASHING BLYTHE DOLL HAIR
Fabric Softener: The best fabric softener for a Blythe doll hair is Downy free and gentle softener. It has no dyes or perfumes.
Check Price For Free & Gentle Softener On Amazon
Wide Tooth comb: Using a wide tooth comb will help with the really bad tangles without pulling or ruining the hair.
Detangling brush: These are a must have for Blythe hair. They are gentle and have the bristles close together that helps smooth and soften the hair as you are brushing. The cone shaped plastic bristles work to separate the hair sideways instead of down, gently unraveling even the toughest tangles on your doll.
Check Price For Detangling Brushes On Amazon
Housecoat or Robe: Spa days can be super fun especially when you are doing a photoshoot for your Instagram. Here are some cute housecoats and robes on Etsy.
Housecoats & Robes For Blythe Doll On Etsy
Thank you for reading! We hope you found these tips helpful when washing your Blythe doll hair. Come back to this page when you need to wash your doll hair again in the future! Thanks for reading.
MORE BLYTHE DOLL RESOURCES
Blythe Doll Customizer Supplies
Custom Eye Chips For Blythe Dolls
Leave a comment
Comments will be approved before showing up.