5 Sewing Hacks and Tips You Should Know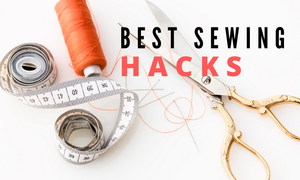 Here are some of the best sewing hacks for people that love to sew. Sewing can be a challenge at times, even if you're highly experienced. Here are five sewing hacks you really want to have in your arsenal to make it way easier to create your favorite projects. You'll save time and be able to stitch your creations more effectively as well.
BEST SEWING HACKS
1. Use A Rubber Band Around The Arm Of Your Machine
By putting a rubber band around the arm of your sewing machine, you'll be able to sew straight lines with ease. You can leave the rubber band on the arm – all you have to do is adjust it for each individual project. Crooked hems will be a thing of the past!
This hack is particularly useful for quilting, or when you have to sew further into your fabric and you can't use the side of your presser foot to align the fabric. And if you've got the best Husqvarna quilting machine, large pieces will be even easier.
2. Put A Ribbon Around Your Fabric Scissors
Fabric scissors can become dull quite quickly if you are cutting things with them other than fabric. What better way could there be to remind yourself of this than to tie a ribbon around the handle of your scissors?
And if you do find yourself needing to sharpen your fabric scissors, simply cut into some aluminum foil a few times. No need for fancy knife sharpeners. Simple!
3. Sew On Buttons Using Dental Floss
If you have children – or adults, for that matter – who are always losing their buttons, try sewing them on with dental floss. Dental floss is tougher than standard thread.
You can even sew on extra buttons to the insides of sleeves to always have a backup handy.
If you prefer to use standard thread, you can dip it in wax to strengthen it. Easy!
And if you are having trouble threading your needle, simply spray the end of your thread with hairspray to stiffen it.
4. Use A Zig Zag Stitch Over Yarn To Easily Make A Ruffle
There's no limit to the kinds of sewing projects you can make when you can make a good ruffle. Ruffles make a gorgeously decorative trimming for curtains, bedsheets, cushions, stuffed animals, and more.
One of the simplest ways to create a ruffle is to use a wide zigzag stitch over a length of yarn. You then pull on the yarn, and presto, you've got a ruffle! Just be sure that you've got one swing of the needle on the left side of the yarn and the other on the right.
5. Sharpen Your Pins With Wool Stuffing
You can make a highly effective pincushion when you use steel wool as the stuffing. Steel wool will keep your pins nice and sharp – every time you poke them back into the pincushion, it will sharpen them for you. No extra effort needed!
You can also add rice to your pincushion to help absorb any excess moisture.
There you have it, enjoy these sewing hacks! Please save a pin to you sewing boards so you can find us again.
MORE HELPFUL ARTICLES
Leave a comment
Comments will be approved before showing up.