15 FUN Rock Painting Ideas [2023]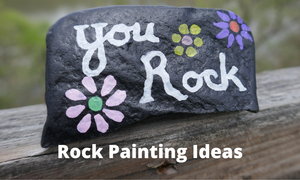 Here are some easy rock painting ideas for painted rocks. If you are looking for creative ways to have fun with rock painting, you've come to the right place!
Rock painting is a great way to express your artistic side and create decorative pieces for yourself or to give as gifts. It's also a fun way to spend time on the weekend and can be done either indoors or outside.
And best of all, rock painting requires minimal supplies and is easy enough for anyone, regardless of their level of artistic ability. With these rock painting ideas, you'll be rockin' in no time!
Best Rock Painting Ideas
1. Hello Rock Sticker
In this rock painting video we used a washi tape sticker and some golden fluid acrylic paint. It was super easy to do.
2. Mandala Rock Painting
Here's some creative ideas on how to paint mandala rocks. There are many colors combinations for mandala rocks, and we share some gorgeous mandala rock painting ideas with you in this article dedicated to everything mandala.
3. Kindness Rock Painting
The Kindness Rocks project is something that will transport you to a comforting place that is full of hope, love, inspiration, and kindness. 
4. Rock Painting Markers
Who doesn't love a good rock painting session? Whether you're a beginner or an expert, it's hard to resist the call of rock crafts! After all, there's something satisfying about transforming small pebbles into colorful art pieces.
We have used this brand before, check out the swatching video on our YouTube channel. Subscribe
5. Eco Friendly Rock Painting
Another area of rock painting we wanted to explore was eco-friendly rock painting ideas and supplies, for those of you who want to rocks out in the world but are also concerned about preserving the environment.
Here is a post about Eco-friendly rock painting supplies where you can learn about the best eco-friendly supplies for rock painting, and why it is important to keep these earth-friendly paints in mind.
6. You Are Loved Rock
Who said rock painting was just for grade-schoolers? Show off your creative side with this adorable rock that'll make you smile every time you look at it! It's pink, unique and most importantly it contains an empowering message - 'you are loved'.
7. Be Patient Rock
Whether as a meaningful gift to yourself or a friend, rock painting is not only fun, but also an opportunity to get crafty while highlighting an important message. Let this cute rock remind you of how special and loved you truly are!
Add on some eco friendly glitter accents to make it really shine.
8. Choose Happy
A great way to get started with rock painting is to grab a rock and paint "choose happy" on it. This rock can be used as a reminder to keep the positivity flowing when things are tough. It's also the perfect piece to encourage others with its uplifting message. Follow the step by step instructions for this rock.
9. Owl Rock Painting Idea
Painting an owl on a rock can be an exciting project for anyone; from rock painting beginners to experienced crafters. Owls are considered symbols of intelligence, so why not add your own creative twist to one?  
10. Emoji Rocks
Spice up your living room with emoji rocks! It's a fun craft project the whole family can get involved in. Grab some pebbles from your house or garden and start adding bright colors and playful facial expressions to turn them into smiling faces.
11. Cool Dude Rock
Spend time exerting your creative energy and have some fun decorating your rock by painting a cool dude.
12. River Rocks
It's time to rock! If you've had your eye on rock painting crafts, check out the YEAHOME rock painting set with the perfect assortment of unpolished river rocks for any project. This kit is ideal for bringing vibrant and imaginative ideas to life. 
13. Glow In The Dark Rocks
Whether it's used for garden décor, DIY art projects, or giving someone a unique gift. This rock painting set has everything you need to let your creative juices flow with glow in the dark rocks.
14. Rock Quotes
Painting affirmations and quotes on rocks are great for giving to friends.
15. You Rock
Painting colorful flowers on rock surfaces can be a great way to get creative and put your personal mark on the natural world around you. Rocks of all shapes, sizes, and colors are easy to find and make great canvases for rock painting crafts.
You can try painting a bright tulip or a cheerful daisy for spring, or maybe go for something unique like a stargazer lily. 
Making your own rocks is definitely a fun craft. With a little patience and the right tools, anyone can create beautiful and unique rocks.
Thanks for reading this article, we hope you find some good ideas. Feel free to share this article on our social media and soapmaking groups. Happy crafting.
More Craft Articles
Are you on Pinterest? Here is a pin for your rock painting boards so you can find us again. 😘
Leave a comment
Comments will be approved before showing up.