Brother CS6000i Sewing Machine Review [2023]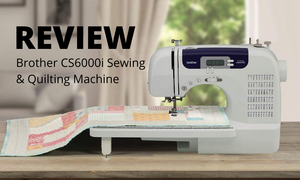 Here is the review of the Brother CS6000i sewing and quilting machine by Brother. The BROTHER Sewing & Quilting Machine CS6000i is a great machine for beginners and for someone who wants to upgrade their current sewing machine. This sewing machine comes with 60 built-in stitches.
If you are looking for a machine to just start out with or upgrading from your basic machine that you're going to find this sewing & quilting machine is really user-friendly.
Brother CS6000i Sewing Machine Review
So this machine is going to sew through everything from canvas to cotton. Customers are really loving how it will easily sew through stretchy fabric too. If you are going to be sewing through heavier fabric like a canvas then do make sure your tension is set for the fabric to avoid bunching.
hat's one of the most important things when sewing. If you have heavy fabrics, just be sure that the tension is set properly.
It's A Good Sewing Machine For Small Sewing Businesses & Etsy Shops
This sewing machine allows you to put the perfect edging for the kind of fabric that you're going to be using too. Just check the manual that comes with the machine to make sure that your tension is set correctly.
There is an easy threading system so all you need to do is pull down a lever and that will get the needle threaded for you.
This machine has 60 built in stitches so you will get a good variety of stitches and options for your sewing projects.
Basic
Decorative
Heirloom
These are a pretty good variety of stitches to make everything from quilts to doll clothes.
There's also large zigzag stitches so these are super wide 7mm for decorative stitches, so it's going to be something that you might like to use to enclose your raw edges.
Helpful Built-In Stretch Stitches
The built-in stretch stitches are what you're going to be using for anything elastic or stretchy fabric.
You know how some machines won't really sew through a fabric that stretchy like spandex very easily? Well, this sewing machine will has a special setting for fabrics that stretch.
10 Sewing Feet Included
There's 10 sewing feet and a free motion monogram foot and this is what allows you to sew in all different directions. You can easily swap your feet with the easy change lever.
Zipper foot

Button

Buttonhole

Zigzag foot

1/4" piecing foot

Overcasting foot

Spring action quilting foot

Walking foot

Blind stitch foot

Free motion monogram foot which allows you to sew in all different directions.
Included is 8 different styles of buttonholes. So you can just play around with different patterns to go with your project. For those who love to quilt, you are really going to enjoy that there is a button that allows you to sew with free motion quilting. It allows you to move the quilt  in different directions.
Wide Removable Table
It has a large wide table so if you're working on big sewing projects you are going to find that super helpful. The table actually slides on and off so if you need to remove it for a part of your project, it just comes off easily.
Large LCD Display
The LCD display is there to help you with the proper settings to change your stitches and also to use the proper foot for the project that you're working on.
A top load bobbin makes it easy to set your bobbin into and you can see it right in there. It's super easy to see what's going on with the bobbin as you are sewing.
WATCH THE REVIEW VIDEO: Brother CS6000i
Here's a Pin to save to your sewing boards:
MORE HELPFUL ARTICLES
Best Sewing Machines For Beginners
Brother GX30 Review (Best For Beginners)
Leave a comment
Comments will be approved before showing up.