11 Best Blythe Supply Shops Etsy [2023]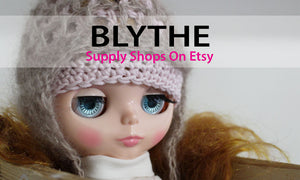 Are you a fan of the Blythe dolls? If so, you'll love the supplies that these shops have for crafting your own dolls. 
Their selection of clothing, accessories, and other materials will let you create the perfect doll for your collection.
Whether you're a beginner or experienced Blythe doll collector, they have everything you need to get started. Stop by today and see for yourself!
Blythe dolls are a type of fashion doll that have been around since the early 1970s. While they were once popular, they have seen a resurgence in popularity in recent years.
If you're new to the world of Blythes, or if you're looking for some new supplies to help you create your perfect doll, then read on for some tips!
In this post, we'll discuss the best Blythe doll supply shops on Etsy. So whether you're just getting started or are looking for something new, keep reading for all the info you need for customizing your Blythe or finding a new outfit.
BLYTHE DOLL SUPPLY SHOPS ON ETSY
1. I Sew For Doll
The perfect shop to accessorize your Blythe doll. These tiny accessories are just the right size for your doll, and they're perfect for adding a little personality. Whether you're looking to add a new buckle or outfit they've got you covered.
2. PS Fabric Shop
Looking for the perfect outfit for your Blythe doll? Look no further. Their collection of clothing and accessories is sure to have something that fits her or his style.
 If you're looking for a new dress or some new shoes, or want to make a custom outfit from scratch, they have lots to choose from.
3. Favorite Blythe
Here's a stylish way to accessorize your Blythe doll. This shop offers the most adorable custom shoes. 
Their large collection of beautiful jewelry and headbands will complement your doll's personality and style.
4. BeBe Blythe Co
Their collection of stylish clothes, shoes and accessories will have your Blythe doll looking her or his best.
Whether you're dressing your doll up for a special occasion or just want to give your doll a new look, they've got everything you need for your very own custom Blythe doll.
5. Ziwei Craft Boutique
What could be more fun than creating your own one-of-a-kind Blythe doll? These adorable dolls come with tons of customization options, so you can create a look that's all your own.
Whether you're into funky fashion or girly glamour, there's a Blythe doll for you. This shop has lots of blanks to choose from.
6. Studio Bambini
Looking for some new clothes and boots for your Blythe doll? Look no further. They've got a great selection of styles perfect for any occasion.
Whether you're dressing her up for a party or getting her ready for a day at school, they have everything you need to make your doll look fabulous.
7. Suzuke Blythe Dolls
This Etsy shop specializes in adorable and stylish clothing designed specifically for Blythe dolls, offering a wide range of options to dress up these beloved collectible dolls in unique and fashionable outfits. From trendy dresses to cozy sweaters, it's the perfect place to find the perfect wardrobe for your Blythe doll.
8. Poppets Dolly Bits
With Blythe doll house accessories, you can decorate your dollhouse in any style you like.
Add some personality with vibrant wall paper, give your dolls a place to sleep with comfy beds, and add some greenery with flower pots. There's no limit to what you can imagine with these accessories.
9. Moshi Moshi Studio
Check out their collection of stylish clothes patterns for your Blythe doll. This shop has everything from pretty dresses to vintage style outfits. 
Their clothes are perfect for giving your doll a unique look that will stand out from the crowd.
10. Divinity Fibers
Your Blythe dolls will never look the same again with their new awesome hair! Their beautiful Mohair for Blythe dolls comes with enough hair to customize your Blythe.
Mix and match colors to create a unique look for each of your dolls. With this much variety, your dolls will always be fashionable.
11. Victoria Fox Dolls
A beautiful line of custom accessories for Blythe dolls! Their pull chains are the perfect way to customize your doll's look, and their eye chips let you change your Blythe doll eye color on a whim.
They also have a range of other accessories, including faces.
MORE HELPFUL BLYTHE DOLL ARTICLES
Where to get Blythe doll eyechips
Did you find this Blythe Doll article helpful? Please save a pin to your Blythe doll boards so you can find us again.
Leave a comment
Comments will be approved before showing up.