4 Benefits Of Screen Doors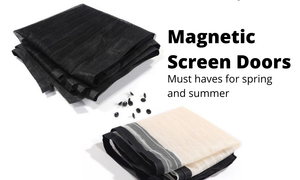 Benefits Of Using Magnet Screen Doors  
The magnetic screen door is an indispensable addition to your house or apartment if you are tired of the usual mosquito menace. One of the most effective ways to stop insects from coming into your house is by using a magnetic screen door. These are especially helpful when you are having a bbq or get together and going in and out of the house constantly. 
BENEFITS OF A SCREEN DOOR
1. Stop Insect Entry
The only thing that can stop insect entry into your house is a screen door which use magnets attached to their edges. The mesh, in turn, has an opposing magnetic force that prevents all kinds of insects from entering.
There are no gaps between the mesh, so this will keep the bugs out. This way, not even one mosquito can get through this open window treatment to wreak havoc inside your rooms at night.
2. Let The Cool Breeze In 
Letting in fresh air is one of the essential benefits provided by a magnetic screen door. The magnetic screen door is one of the most effective and attractive ways to let in a cool breeze into your house.
The only thing that needs to be done is attach magnets at the edges, and its mesh acts as a perfect curtain that lets in the air but not insects or dust particles. 
3. Keep Out Pollutants And Also Allergens
If you have been troubled with allergies from things brought inside your house from outside, then this is the best way out for you.
If pests are bringing in pollen grains inside your rooms, you can prevent them by using a magnetic screen door. The screens are very small and tightly woven together to help keep little bugs and particles out of you home or RV.
4. Keep Out Bugs At Night
One of the main benefits of a magnetic screen door is that it can be used as an open window treatment for letting in a cool breeze at night without worrying about insects flying inside.
If you have been struggling with mosquitoes coming into your house during nights through open windows, you should try this solution. The only thing needed is to attach magnets at the edges, and its fine mesh acts as a perfect curtain. It allows air but not mosquitoes or any other insect fly into your rooms.
Conclusion  
If you are looking for a way to keep your home cool and bug-free this summer, look no further than the magnetic screen door. This ingenious invention will keep pesky bugs out while allowing fresh air to circulate through your home. With a few simple steps, you can have this door up and running in no time! 
Written by www.diycraftsy.com
MORE HELPFUL ARTICLES
How to update your kitchen on a budget 
Leave a comment
Comments will be approved before showing up.