5 Low-Maintenance Looks for Your Backyard [2023]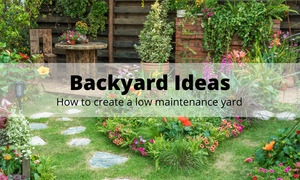 Here are some of the easiest low maintenance ideas for your backyard. Regular and proper maintenance takes time and effort, whether you have a small or a huge backyard. After all, you must take care of the landscape and keep it green and looking amazing.
Is it possible to have a low-maintenance backyard that is beautiful and lush without having to spend hours and hours with the upkeep? With careful planning, it's possible to have a well-designed yard that requires little effort for upkeep.
Follow the tips for landscaping, planting, watering, and more. Soon you will have a low-maintenance space in your backyard that you can enjoy and relax in.
Here are some great ideas and options for a fuss-free outdoor space.
Low Maintenance Looks For A Backyard
1. A natural look
Whether it is for covering fencing or for the garden, look for local plants that can thrive easily with low maintenance. A mix of hardy blooms and grasses will work for the fencing, while a handful of easy-care perennials in the garden mean you need not give much attention to them.
All they need is some cutting at the end of the flowering season. Plant a handful of meadow-mix annuals on the wider part of your garden for a colorful display in summer.
As there are increasing watering restrictions in many areas, it makes sense to shop for drought-tolerant plants, trees, and shrubs that require less water.
2. Stylish paving
Use natural stone or porcelain to add a stylish surface to the backyard and enjoy the fuss-free look. There are plenty of modern paving ideas to inspire you, and a paved surface in the backyard means a more solid surface with less maintenance.
All it needs is a quick clean now and then. There are lots of varieties available in paving materials that need no maintenance and add that beautiful look and finish to your outdoors.
You can add a bit of magic by designing the walkways, courtyards, and other elements and lowering your landscaping chores.
3. Invest in weatherproof furniture
When selecting outdoor furniture for your backyard or garden, make sure it's weatherproof and easy to maintain.
Metal and teak furniture are low maintenance and durable. If you decide on the latter, be sure to know how to care for your outdoor teak, as it requires a slightly different maintenance plan than other materials.
Then, go ahead and place some comfy outdoor furniture and enjoy lounging in your space.
4. Use Self Watering Pots
Those who are working but love their garden and plants should opt for self-watering pots. This is a simple and easy solution for those who don't find they have time to water their plants.
These containers are sustainable and complete with in-built reservoirs. Thus, you can just enjoy looking at the plants without worrying about overwatering or drying out.
These pots are available in different sizes and containers that can be placed on the windowsills or shelves.
5. Add some artwork
One good idea to make your backyard more attractive is to add some outdoor art that goes well with the garden. These artworks, such as sculptures or printed pieces, are an easy way to elevate your garden.
As they are completely weatherproof and durable, you need not spend hours looking after them. You can use them to enhance the focal point of the garden and showcase your personality.
Create your own art pieces or shop for some unique items at local thrift stores. You are sure to come up with some innovative ideas on how to add art to your outdoor space.
Just follow the above-listed ideas if you want a beautiful backyard that is easy to maintain and keeps looking beautiful without a lot of fuss and minimal effort.
More Helpful Articles
We hope you enjoyed this article! Here is a pin for your Pinterest board so you can find this article again.
Leave a comment
Comments will be approved before showing up.