The BEST Apple Dip Recipe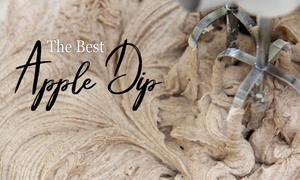 Apple dip is a recipe that is easy to make, and is a total crowd-pleaser. It can be a centerpiece or a side thought to your entertaining, and whichever you choose, this apple dip recipe will be gone quickly. It is soo delicious!
The BEST Apple Dip Recipe
Making apple dip takes only 5 minutes and is very easy to make. If you are wondering what tastes good on apples, there is one true answer: cream cheese and cinnamon tastes the best on apples. The trick to making an apple dip that tastes good on apples, is using ingredients that complement the apples, and cinnamon and cream cheese are the top apple dip choices. This cream cheese and cinnamon apple dip recipe compliments any kind of apple perfectly, whether you have a tart apple like a Granny Smith or a sweeter apple like a Pink Lady, this apple dip recipe tastes great on any apple.
Apple Dip Ingredients:
1/2 cup soft butter
1 brick of cream cheese (about 8oz)
3.5 cups of icing sugar (also known as confectioners sugar)
2 tbsp. cinnamon
Apple Dip Instructions:
1. Start your apple dip by mixing the soft butter and cream cheese together in a bowl. You can use a spoon or beater, whichever you prefer.
2. Once combined, take a sifter and sift your icing sugar into the butter and cream cheese. This ensures there are no sugar lumps in your apple dip.
3. Stir sifted sugar and butter mixture until combined. Can finish with your beaters or just stir together really well.
4. Stir cinnamon into butter and sugar mixture and voila! That is how you make the best apple dip!
You can have a lot of fun serving the apple dip. Dust some cinnamon lightly on top and stick a few sliced apples into it or sprinkle some walnuts on top, the possibilities for apple dip presentation are really endless! Do you have some really cute dip bowls? If not, there are a great selection on Amazon right here for a great price (and aren't they so cute?!)
Browse all personalized, handmade items you can find on Etsy HERE
Be sure to Pin any of our pictures in this article to your favorite recipes Pinterest board. We would appreciate that, and there's a Pinterest pin below!
If anyone is ever wondering what tastes good on apples, you can tell them that this is the best of all apple dip recipes.
It's easy, quick to make and is only 4 ingredients!
Have a tasty day!
Leave a comment
Comments will be approved before showing up.