49 TOP Wedding Jewelry Shops On Etsy [2023]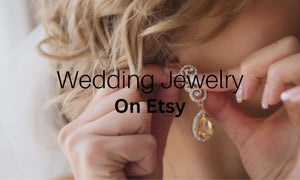 Here are the best wedding jewelry shops on Etsy.
Finding a perfect ring for your wedding and special gift ideas for your wedding party is exciting. When you see the piece that captures your heart you know right away that it's the one.
Whether you are looking for a unique jewelry gift idea or for a wedding set that is completely handmade, the very best place to find your dream jewelry and wedding sets is on Etsy for your big day.


This jewelry list features some of the very best high end and affordable wedding shops for when you are looking for bridal jewelry, gold jewelry, groom or groomsmen jewelry, flower girls jewelry and any more.
These shops offer unique statement pieces for the bride and groom and all of these beautiful and unique designs are made with timeless detail in mind.




Whether you are looking for raw diamonds, gold jewelry, or something to perfectly go with your wedding dress, these shops offer jewelry and other accessories that will be sure to compliment your big day.


Let's go through this jewelry list together so you can find your bridal jewelry and wedding rings.


Tip: If you find a shop in this list that you love, click to go to their listing and then check their announcement section to see if they are running any sales.
BEST WEDDING JEWELRY SHOPS
1. DAWN VERTREES JEWELRY
When only rough diamond and raw gemstones will do, this luxury jewelry shop on Etsy is a must see for exquisite rough diamonds and natural raw gemstones. 
Dawn Vertrees has been creating gorgeous jewelry professionally since 2011. And brides everywhere are raving about her stunning wedding rings.
2. ABIZA JEWELRY
Based out of the UK, Abiza Jewelry offers stunning pieces that are hand crafted with real gemstones and crystals for your big day.
Each piece of jewelry that they offer is stunning & totally giftable for anyone in your wedding party. Their customer feedback is testimony to their amazing customer service.
3. GOLD HILL JEWELRY
Here's a great jewelry shop for when you need some matching bridal gifts. You can create your very own customized jewelry!
This Etsy jewelry shop offers 14K gold custom name & letter necklaces that look gorgeous on anyone.
4. ROSLER
This jewelry shop is from Argentina. Rosler designs has been offering their rare jewelry pieces to brides and customers for over 15 years.
Their wedding bands and engagement rings are made with real gold, concrete, titanium and rare wood. Browse through their matching wedding bands to find a style for you and your loved one.
5. HART WOOD CO.
Natural wood designs are becoming very popular for wedding rings. This shop is run by a husband and wife team who are passionate about creating beautiful designs and statement pieces out of natural wood.
They have an excellent selection of rings and unique gift ideas for your wedding day.
6. AVERIE JEWELRY
If you love the look of raw stamped metals then this is the shop for you. This jewelry shop makes the most gorgeous wedding sets created by hand.
Sometimes it's very challenging to find a jewelry piece for a groom that's unique, but not to worry because this shop has an extensive collection to choose from for your wedding day.
7. ALARI DESIGNS | Bohemian Stacking Rings
This shop is all about custom stacking rings that make a great gift idea for your bridal party.
Most of their custom jewelry designs are made to order so you know you will be getting a one of a kind piece for your mom, bridesmaid or maid of honor. There's really something for everyone in your bridal party in this jewelry shop.  
8. FRESHLY FIG
Here is a great wedding shop for when you need something extra special for mom, dad, and grandparents. This shop has the most amazing locket jewelry selection.
9. OTIS B
This shop is one of our favorites for wedding jewelry! You will find custom gemstones and personalized gifts that are made right in the USA. Their items are all created by hand and shipped from New Jersey.
They offer a wide variety of trending jewelry designs that are handcrafted to perfection. If you want to splurge on a wedding gift idea then you will certainly find an enchanting piece in this shop. 
10. DISTINCTLY IVY
Here's a great wedding shop that has excellent feedback. They offer custom stamped charms with super fast shipping. You can browse through their shop and pick out matching bridal party jewelry that's made just for them.
This team shares coupon codes in their store announcement so be sure to check to see if they have any sales running. 
11. FROSTED WILLOW
Wedding bracelets are a fashionable way for your bridal party to be matching, but still have their own unique wedding style. This jewelry shop creates handmade bangle bracelets that stack and are perfect for the big day.
Before ordering, be sure to measure everyone's wrists. They have a sizing chart in their shop announcement. This will make sure you get the right wedding piece. 
12. LITA SEA GLASS JEWELRY
This Etsy shop has stunning sea glass necklaces, bracelets, and anklets. Any of these pieces would be absolutely perfect for a beach wedding. Their rings and earrings are definitely luxurious and whimsical.
Your bridesmaids and maid of honor will fall in love with anything from this shop. Each jewelry piece is handmade and contains real genuine sea glass. 
13. EIDEL PRECIOUS
The most opulent sapphire engagement rings that are available can be found in this shop. Prepare yourselves for exquisite beauty. Did you know that sapphires come in many different stone colors? Yes, it's true. And this shop certainly knows their sapphire stones.
You can choose from white, lavender, blue & green sapphires. Once you set eyes on their peach champagne sapphire rings, you will be forever enchanted by their beauty. 
14. HENRY ROCKY
A gorgeous Etsy shop that specializes in personalized wedding bands and engagement rings. Their salt & pepper engagement rings are especially unique and beautiful.
One of the most popular rings from this shop are their vintage black quartz rings that are an excellent choice for an engagement or anniversary. 
15. CARBON DISTRICT
Here is luxury brand that does amazing work. You can find jewelry from reclaimed whisky barrel oak to custom carbon fiber rings for men.
Burl is also another popular wedding band material that they use to create their one of a kind rings, and this shop has many stunning designs to choose from. 
16. KINGSWAY JEWELRY
This is one of those jewelry shops where you are going to want to take your time going through their listings one at a time.
With over 1000 wedding rings and custom pendants & bracelets you are going to be able to get everything you need for your jewelry ideas in just one shop.
17. CARRIE SAXL | Mother Of Bride & Groom
At Carrie Saxl you will find initial necklaces, dainty bracelets, and gemstone jewelry pieces that are excellent for Mother's of the bride and groom.
This jewelry shop features personalized gifts and keepsake jewelry. Anyone in your bridal party can go from the ceremony right to the reception with style.
18. TROVE COMPANY
From the beautiful coastal waters in Vancouver, British Columbia, this shop has the most brilliant and stunning handmade gemstone rings. Looking for an engagement ring that will sparkle and shine like the sun?
Then you must check out their line of Halo Engagement rings that come in many different shapes and sizes.
This jewelry shop goes above and beyond to make sure each customer has a memorable experience with their wedding rings. 
19. SYDNEY'S BY DESIGN
This shop offers fashionable spinner rings that can be ordered for a special gift for your maid of honor or best man. Their jewelry is good for everyday wear and each of the pieces that they offer is made by hand with metals like copper and brass.
Their designs are inspired by places like the French Countryside and Celtic nights. Read through their helpful care information to help keep your jewelry looking it's best. 
20. JEWELRY BLUES
This Etsy shop carries a wide variety of hand-stamped necklaces and gift ideas for your flower girl, ring bearer and bridal party.
What you might especially fall in love with, is the custom children's art necklace that you can order, seen below. Have your flower girl or ring bearer make a special message that will last for years to come! 
21. CHRYSALIS STUDIO
Here is a shop that has some pretty amazing jewelry. Their jewelry pieces are all custom made from real butterfly wings! And they are ethically sourced as well.
If you have someone in your wedding party who loves nature-inspired jewelry then they will certainly fall in love with their pendants, rings and bracelets. They make all of their winged jewelry by hand with ethically obtained wings from butterflies that naturally expire. 
22. AMBICA NEW YORK
This Etsy shop offers superb dainty jewelry that's made with real pearls and gemstones. They offer the best quality jewelry at reasonable prices for affordable bridal jewelry accents for everyone. 
Their vintage-inspired jewelry is made with sterling silver & 14K gold.
23. EMILY DESIGN
Nature-inspired wedding jewelry and bridal jewelry at its best. This MA design studio offers the most wondrous spinner rings that pair delicate florals and hand stamped designs that are stamped right into the metal. 
24. VILLA SORGENFREI
Here is another shop that offers one of a kind, original jewelry that is inspired by the beauty of nature. Their pieces are all handmade in Berlin and designed by the shop owner, Claudia.
All of the necklaces, rings and earrings that she makes are completely hand finished in her own workshop. These would make gorgeous bridal jewelry pieces. 
25. MIYORA
What we love about this shop is their dainty earrings that are made with 14K gold.
Each of their pieces are hand cast in a studio in Nazareth and are very giftable for your mom or a very special gift for your maid or matron of honor on a wedding day. 
26. ALLURE WEDDING JEWELRY
This is a couture bridal store on Etsy that combines their love of high fashion with their expertise for brides. These are definitely statement pieces that will leave an impression.
They offer exquisite jewelry, wedding combs, tiaras & headbands that will sparkle and shine in the best of ways. The owner Laura has been providing beautiful headpieces for her brides for over 14 years. 
27. MINIMAL VS
Teal sapphire rings are one of those pieces that once you know about them, you can never get them out of your mind. They are truly precious.
When you are searching for a luxurious engagement ring that is unique then you will want to head on over and look through this shops rings.
The colors of the stones have different shades of light blue depending on how the light is shining. Totally mesmerizing. 
28. Caitlyn Minimalist 
If ultra dainty jewelry is your love, this Etsy shop features personalized wedding party rings, bands and necklaces that are handmade with solid 925 sterling silver.
They have a large selection of jewelry for an anniversary gift or for your wedding party gifting or for any special occasion.
Take a look at their collection of custom handwriting bracelets. Wouldn't that make a great gift for your mom or future mother-in-law? 
29. JOANNA REED BRIDAL
There are many gorgeous headpieces in this shop to see and we especially think the classic bridal tiaras are brilliant.
Joanna Reed Bridal uses only quality jewelry findings for their designs. Some of their favorite materials are Swarovski crystals, freshwater pearls and precious stones. 
30. CARAVAN OF BEADS
When you think of a raw gemstone pendant, all kinds of beautiful images come to mind. This shop has an exciting collection of opal jewelry & pendants that would make a luxury gift idea for your bridesmaids or maid of honor.
This family run business sets their large statement pieces by hand as well as dainty stones. Find a piece to go perfectly with a wedding dress. 
31. INBALMISHAN
From their studio in Israel, this shop has the most pretty birthstone bracelets and necklaces that we have seen. Created with raw stones and crystals, their pieces will lighten up your wedding looks in the most spectacular way.
Take a look at their Larimar Engagement rings, you will fall in love with their unique patterns and colors.
32. EMMANUELA
We know that some of our readers, like you, have always wanted to be a fairy for your wedding day. So we searched and found an Etsy shop that will help with your transformation.
33. WILL WORK
Shop for an opulent gemstone for your wedding or anniversary. We are absolutely in love with their Alexandrite engagement rings and matching wedding bands. They are exquisitely crafted to shine in the light brilliantly. 
34. SYJ COSMOS

Add a touch of nature to your wedding look with these tiny pressed pendant rings. We could browse in this Etsy shop all day because each piece is totally unique with details that just call out to you in the most romantic way.
If you are having a garden wedding or forest theme, you will love their dreamy and enchanting designs. 
35. TRILLOBEAT
For dragon and fantasy lovers who need something dazzling and bold. Here's the Etsy shop for you! You will find the coolest luxury dragon rings all hand created with solid silver.
Customers are loving the branch engagement rings from this designer. The details in his work are truly amazing. 
36. BIJOUX by Meg
Wedding jewelry has never looked (or smelled) so good! If you enjoy the aroma of essential oils, you can have your favorites with you all day. These make fabulous gifts for your wedding party and they are something that can be enjoyed for years to come. 
37. CELTIC ETERNITY
Do you have a love for Celtic designs? This Etsy shop creates the most sought after Celtic designs that Etsy has to offer. Their Valknut knot rings are hand cast in solid sterling silver with a patina finish that makes their designs really stand out in a stunning way.
Their jewelry designs are created by true Viking inspiration and they make everything from Trinity Knot wedding ring sets made of gold & platinum to Thistle wedding bands made from 925 sterling silver. 
38. AUBARE JEWELRY
Visit this shop if you are looking for minimalist handcrafted rings & jewelry for your wedding day. All of their bridal jewelry is nickel-free and is made with sterling silver, or gold-filled.
Be sure to double check their sizing chart before ordering so you are sure to get the right wedding jewelry. We think their knotted rings are a lovely sentiment for your maid / matron of honor that they will cherish for years to come. 
39. JEWELRY BY JOHAN
Celebrate your wedding day with these unique handmade rings and wedding bands. What's even more amazing is that some of their designs are made with real dinosaur bone and meteorites.
So you are purchasing something completely one of a kind when you shop at this Etsy store for your wedding ideas. 
40. ELIZABETH JEWELRY INK
If you love the classic looks for your wedding jewelry, then you will find exactly what you are looking for in this shop. They specialize in fine, handmade pieces with 14KT gold jewelry and diamonds. 
41. REBEKA JEWELRY
Wedding jewelry shopping has never been so fun! This Etsy shop offers custom jewelry that's created with vintage pieces as well as Swarovski crystals and real gemstones. 
With over 3000 pieces to choose from, do be sure to set aside a day where you can really go through their listings to pick out your favorite wedding pieces. 
42. GNG JEWEL Inc.
If you are on the search for authentic gemstone & Moissanite jewelry then you are going to find the perfect piece in this Etsy shop. They are passionate about their high end rings and wedding bands.
They offer luxurious jewelry pieces that are carefully handmade in their workshop in New York. Wouldn't this compliment a wedding dress beautifully? 
43. BELESAS
What a colorful and pretty collection of wedding mood rings this shop has to offer. And the best part is that they use beautiful stones that are high quality and then hand set into gorgeous custom settings.
Brides are raving about their unique jewelry and gifts! 
44. WOOD ALL GOOD
Pair resin with gemstones and wood, and you have the most stunning rings and jewelry. You are going to be amazed at every single design that this shop has to offer.
45. CURIOSITY CABINET
You know that feeling when you find a stunning vintage piece that you just have to have? You are going to get that feeling when you browse through this shop. You will easily find something special for your whole wedding party here. 
46. ONE LIFE JEWELRY
Here's a wedding jewelry designer that focuses on positive messages and scripture pendants. You will find inspirational pendants and gift ideas for bridal parties & mother of the bride. They specialize in meaningful jewelry made just for you. 
47. ADORA
This is your one stop jewelry shop for everything bridal. Browse through hundreds of beautiful engagement rings and sets. Wedding rings and solitary men's wedding bands are their specialty.
Their 14k rose gold jewelry wedding bands with black diamonds are especially unique and one of a kind. Head on over to pick out your favorite new piece. 
48. FERKOS FINE JEWELRY
You will certainly find a beautiful piece if you are looking for classy wedding rings and engagement rings for your special day.
Diamond wedding bands are their specialty and they have many different styles to choose from dainty to larger statement rings. 
49. DARETH COLBURN DESIGNS
For those of you who love romantic and feminine wedding accessories, you are going to find this shop enchanting.
They specialize in bridal hair pieces like custom combs and hair vines for all budgets. Their wedding crowns and tiaras are especially lovely and they are all handmade to go with any wedding dress. 
In Conclusion
We hope you found this list helpful and that you find your bridal jewelry pieces. Feel free to share this article with your friends and family on your social media.
MORE Wedding ARTICLES
Must See Lacey Wedding Dresses