14 BEST Wedding Bouquet Ideas [2023]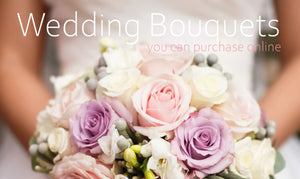 Here are the best wedding bouquets you can buy online.
Looking for the perfect wedding bouquet for your wedding? You have come to the right place because we have found some gorgeous wedding bouquets that any bride will fall in love with.
Here you will find the best handmade wedding bouquets that you can purchase online. This list features artisans who make wedding bouquets by hand and also stores that offer super quick shipping when you need your bouquet right away.
If you are ordering a custom handmade bouquet for your wedding, be sure you give these sellers plenty of time to ship. Most of the bouquets listed here are one of a kind & custom pieces.
Take the shipping times into consideration when ordering so that your wedding bouquet arrives on time. It's extremely important to give these creatives lots of time to work on your pieces without rushing.
That way they can dedicate their time to making sure you are receiving the very best wedding bouquets and accessories you can possibly have for your wedding day.
BEST WEDDING BOUQUET IDEAS
1. Handmade Brooch Bouquets
If you are looking for a one of a kind, custom bouquet for your wedding that will last forever then you must check out this shop.
They have the most stunning handmade keepsake bouquets, and these are a really gorgeous alternative to fresh wedding flowers. What a way to make an impression.
This shop has so many gorgeous styles to choose from and they are stunningly beautiful and completely handmade from scratch.
2. Silk Wedding Bouquets
Silk wedding flowers never looked so real. This shop makes some of the most stunning silk bouquets for a wedding. Their attention to detail have brides raving about their bouquets, and about the quality of silk that they use for their flowers.
If you are looking for some bouquet accessories to match up with your wedding party or groom then you will find everything that you are looking for in this wedding shop.
3. Large Cascading Bouquets
This is the shop for you if you are looking for cascading & large bridal bouquets. This shop offers many bouquet sizes and colors to go with your wedding style and theme, like spring wedding dresses.
Their cascading wedding flowers not only adds an elegant and romantic accent to your wedding dress, they are also made from eco-friendly materials.
4. DIY Loose Flower Kits
These wedding flower kits come in random sizes so that you can DIY your wedding flowers just how you want them. This wedding flower company offers raw wood flowers that you can dye, paint or customize to suit your theme and colors.
How lovely would these look with some gold leaf, or for your wedding party?
5. Vintage Paper Bouquets
Walk down the aisle with these stunning vintage paper wedding flowers. These handmade bouquets are definitely going to get you some serious attention and compliments, whether you want them for yourself or as bridesmaids bouquets.
Their one of a kind bouquets are made from real vintage and ephemera papers, music sheets and more and these would be beautiful for a spring or summer wedding, but we would love to see some of their fall and winter wedding flower designs.
6. Fabric Flower Bouquets
This shop makes the most lovely and gorgeous fabric wedding flowers out there. They have many that are all ready to ship so you can shop their store for the perfect bouquet that suits your style and colors.
This shop is known for their attention to detail and best customer service for their brides.
7. Handmade Botanical Bouquets
Visit this shop for beautiful and elegant botanical bridal bouquets that can be kept as a precious keepsake and goes perfectly with a lace wedding dress.
Their handmade bouquets are very realistic looking and you won't have to worry about your floral bouquet withering or drooping during the day. Which is especially important if you are having a long ceremony with photos later in the evening.
8. Toss Bouquet
Stylish and cute, this toss bouquet comes in several colors and decorative brooch designs to match with your wedding theme.
Their bouquets for weddings are created with fabric cloth, artificial flowers and beautiful rhinestones. The dimensions for this bouquet is approximately 7 x 7 x 10 inches.
9. Wedding Bouquet Picture Charms
We all have loved ones that are only in our memories forever. Thankfully there are shops that can create custom memory pieces for wedding bouquets to make them even more special.
This shop creates custom photo charm accessories so that you can keep your loved one close to you on your wedding day.
10. Vintage Floral Bouquet
If you are an Amazon shopper then you might want to check out these elegant and timeless keepsake wedding bouquets. Made from latex and silk, these bouquets are handmade and look lovely with blush tones.
11. Handcrafted Metal & Enamel Bouquet Accessories 
If you are looking for a special accessory to make your wedding flowers pop, then you will definitely find something unique in this shop.
They carry a large selection of large rhinestone brooches that you can add to your bouquet.
And if you need just a hint of color or small flowers for extra accents, they have the most adorable enamel flower pins that you can add for the finishing touches.
12. Macrame Flower Wrap Bouquets
Here is a beautiful handmade accent to add to your wedding bouquet. This shop makes gorgeous flower wraps that would look stunning for your beach themed or garden wedding.
It might be the extra special touch you are looking for.
13. Beach Themed Wedding Bouquet
This pearl seashell and rhinestone wedding bouquet is perfect for a beach themed wedding. This beautiful and elegant bouquet is made from silk flowers including white roses, lilies, blue peony, and dahlia flowers.
The cute little starfish and seashells add extra charm and special accents that will pair perfectly with your beach wedding dress.
14. DIY Wedding Bouquet Supplies
If you are into making your own floral arrangements and floral design with beautiful floral supplies, then this is the place to find everything you need to make any kind of bouquet that fits your colors and style for swoon worthy flowers, including flower petals, accessories and more.
We hope this list of the best wedding bouquets gives you some great ideas that help you choose the perfect bouquet.
WATCH THE VIDEO BEST SUMMER WEDDING BOUQUET IDEAS From Dream Wedding Plans
More DIY Wedding Ideas
Top Selling Etsy Wedding Shops
Best Succulents Online For Wedding Centerpieces