23 MUST SEE Wedding Dress Shops Etsy [2023]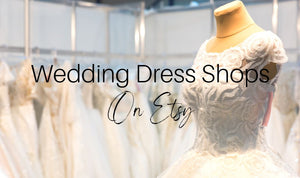 Here are the best shops on Etsy to shop for a wedding dress. Etsy is the perfect wedding dress shopping haven.
Here, you will find wedding dresses and gowns of all styles and colors, lovingly made by artisans and craftspeople. Artisans and shops offer one-of-a-kind designer creations and  more traditional handmade garments.
With unique, elegant wedding dresses that are timelessly romantic, prices for all budgets and unbeatable customer service - it's no wonder why so many brides choose Etsy to find their perfect wedding dress.
Come explore all the different wedding dresses on Etsy today, and create your happily ever after. Let's go through this list together to find your new favorite shop for wedding dresses.
Best Wedding Dress Shops On Etsy
1. 
WoWoWo Bridal
This beautiful Etsy store specializes in handmade wedding dresses that make a romantic impact.
Featuring a diverse selection of wedding dresses, this shop helps brides-to-be find the perfect gown for their special day.
Choose from a variety of silhouettes, fabrics and colors as all of your wedding dress needs can be found here. 
2. A
lex Bridal
Alex Bridal is a top selling wedding dress shop to find something special and romantic for your wedding day.
With its collection of wedding dresses available through Etsy, this shop offers timeless pieces that will make you look and feel lovely whenever you wear them.
All the wedding dresses featured by Alex Bridal have been perfectly crafted with attention to detail, ensuring they strike the right balance between modern chic and classic elegance. 
3. 
Galvan Sposa Co
Galvan Sposa Co is the romantic wedding boutique for amazing selections. Located on Etsy, their luxurious wedding gowns are an ode to classic elegance.
Every garment is handcrafted and impeccably tailored, celebrating newlywed bliss with soft and feminine silhouettes.
Thoughtfully designed wedding dresses in opaque fabrics like silk organza and taffeta complete a wedding day look that radiates effortless sophistication.
4. 
ieie
If you're dreaming of your wedding day, then look no further than ieie on Etsy. They offer a unique range of wedding dresses that fit every size, style and budget.
Whether you're looking for something timeless or modern and romantic - ieie has it all.
Plus, with their exceptional customer service and great shipping options, you'll be sure to find the wedding dress you've been searching for without the stress.
5. L
ace Fabric Art
For over ten years this shop has been crafting wedding dresses to make couples feel utterly romantic on their special day.
With a selection of high quality wedding fabrics and a range of options, you can find just the right wedding dress for your big day.
From silk to polyester fabrics and sheer laces to white wedding bridal versions, you are sure to find something lovely.
6. 
Bridal Garden Studio
Bridalgarden Studio on Etsy is a wedding shop like no other! Here, you can find wedding dresses that are simple yet romantic, timeless and elegant.
Created with meaningful materials and attention to detail, each dress creates an unforgettable experience for the loving couple.
From lace-accented dresses to ball gowns and much more, you can find your dream wedding attire here that will also pair with your bridal bouquet.
7. 
Torix Design
For couples looking for the perfect wedding attire and accessories, Torix Design on Etsy is a great place to start.
From over the top wedding dresses to elegant accessories - all handcrafted and customized with romantic designs - this shop offers something truly special for any wedding. 
8. 
Designs By Alexxandra
With a variety of silhouettes and styles to choose from, you're sure to find the wedding dress that suits your own aesthetic. From romantic lace sheaths to glamorous puffed ball gowns - each dress is handmade with love and attention to detail.
Enjoy a stress-free shopping experience as you explore their vast selection of handmade wedding items guaranteed to transform your special day into an unforgettable one.
9. 
Uulala Shop
When it comes to wedding planning, nothing can beat the unique selection found in Uulala Shop. This store presents a dreamlike experience that will make your wedding day truly special and romantic.
Made with fine materials and careful attention to detail, each item from Uulala Shop is worthy of a love story.
10. 
Duotopia
If wedding bells are in your future, look no further than Duotopia. Their wedding dress designs ooze romance and grace, making you feel like a true princess on the big day.
With prices to suit any budget and quality construction that will last far beyond the day of saying "I do," wedding shopping at Duotopia is sure to be an enjoyable experience.
From ivory chiffon to tulle and lace, browse their shop to find the wedding dress that goes with your unique style.
11. F
lora And Lane
Flora and Lane is a wedding and events shop with wedding dress, suits and accessories on Etsy.
The pieces feature unique cuts and carefully thought out details that make each wedding one to remember.
From wedding dresses with whimsical laces and vintage-inspired silhouettes to classic tuxedos crafted with care — Flora and Lane's collection of timeless wedding attire makes every wedding look special.
With designs that bring the joy of wedding celebrations to life, no matter the style or event, this store helps make your wedding a truly fabulous experience.
12. 
Queen Style 4
Shopping for wedding dresses just got easier - introducing Queen Style 4. With fantastic wedding dress designs made with luxurious fabrics, romantic lacing and delicate embellishments, each wedding gown is carefully crafted to showcase your special day.
What's more, excellent customer service and quality materials ensure you look absolutely perfect on your big day. Fall in love with your wedding outfit and get ready to bring fairytale wedding ideas to life.
13. 
Chrissy Wai Ching
Etsy shop Chrissy Wai Ching has wedding dresses for anyone looking to make that romantic, dramatic and elegant statement on their wedding day.
Their designs include a range of styles and fabrics, ensuring there's something for every bride.
Whether you're looking for a classic wedding gown fit for a princess or a more daringly unique style, Chrissy Wai Ching offers both modern and vintage wedding looks perfect for any special occasion.
14. 
Linennaive
Their collection of wedding dresses is full of silhouettes to choose from, ranging from timelessly classic to whimsically romantic.
All features vintage style touches and intricate details that will make you feel like a princess for your special day.
Each dress design is tailored to the individual to ensure that each bride will have their own unique look -- perfect for couples who want to put their own spin on wedding traditions.
15. 
Mediterranean Style Co
This shop offers wedding dresses and boho-inspired clothing that capture the romance of the Mediterranean.
Their wedding dresses are designed to be luxurious yet timeless, fitted to flatter any figure and make you feel like a modern day princess.
For wedding attendees or special occasions, they have breathtaking embroidered pieces in luxe fabrications to give you an unforgettable look. 
16. C
olour Y bridal
Dream wedding dresses await you at this shop. This Etsy shop offers wedding dresses full of romance, love, and drama.
With designs inspired by the whimsical views of nature, each wedding dress is unique in its own way.
Each graceful wedding gown will capture your heart and make you feel like a fairytale princess on your special day.
Let their stunning wedding dresses take your breath away and make lasting memories for the wedding of your dreams.
17. 
Retrolace
For wedding dresses that are truly unforgettable and breathtaking, look no further than Retrolace. Find unique creations and timeless styles in wedding dresses from this extraordinary shop.
From sweetheart necklines to full skirts and statement lace detail, you will undeniably find something special for your wedding day.
With a romantic, dramatic take on wedding gowns, Retrolace provides a simple and enjoyable online experience, with a selection of wedding dresses to bring out the romance.
18. Lace And Love Brides
Spectacular wedding dresses await awaiting you at this shop. With so many breathtaking wedding gowns available, you'll be spoilt for choices.
From classic ballroom silhouettes to unique A-line cuts with sophisticated details, each wedding dress at Lace and Love Brides offers you the ultimate in dreamy bridal couture.
Delight in romantic lace accents and dramatic tulle skirts perfect for your wedding day.
19. 
Bridal by Oguz
Featuring wedding dresses that range from subtle and elegant to over-the-top and dramatic, this shop has something for every kind of wedding - no matter how unique or romantic the celebration might be.
All wedding dresses are made with love and attention to craftsmanship, giving brides the perfect canvas on which to create their wedding look.
With this collection of wedding dresses, it's easy to look spectacular while celebrating the start of a new life with your partner.
20. 
Retro Vintage Weddings
Offering unique and hard to find wedding dresses and wedding supplies, Retro Vintage Weddings has everything you need to make your wedding day romantic and memorable.
From beautiful lace wedding dresses to vintage wedding decorations, this is the place to shop for wedding gifts that will be cherished for years to come.
21. 
Movie Star Moon
Discover the perfect wedding dress at Movie Star Moon, a wedding boutique.
Their wedding dresses are uniquely crafted by hand with love and attention to detail.
With an artisan production process and range of styles available, you will find a wedding dress that speaks to your romantic soul.
22. 
Vivian Elise Vintage
This shop is a wedding lover's paradise to find that elusive dream wedding dress or accessory. They offer timeless lace wedding dresses to romantic veils and hairpieces.
This store offers wedding pieces of impeccable quality at highly competitive prices.
With designs inspired by classic collections and antique details, each item in this store radiates an effortless romance.
23. 
Medea Boutique
Every wedding dress is handcrafted with attention to detail, from tying ribbons in elegant bows and layers of delicate lace, to carefully pleated skirts for an extra drama.
Oozing romantic elegance, their wedding veils are an accessory that adds a special touch of drama to your wedding dress.
In Conclusion:
Planning your wedding can be a magical experience, and finding the perfect wedding dress should be no exception.
Etsy is a wonderful place to explore a variety of handmade wedding dresses by talented artisans across the world.
Let your imagination soar as you peruse wedding dresses that come in an array of colors, fabrics, sizes, and styles that will make you feel like royalty on your special day.
With its unbeatable selection, shopping for wedding dresses on Etsy ensures that you'll look stunning as you begin your new life.
Please save a pin to your wedding boards so you can find us again.
More wedding articles: