Brother SE600 REVIEW | Sewing Machine Tips [2023]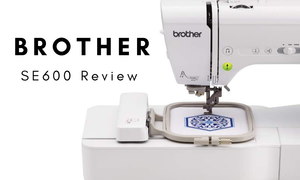 Review of the Brother SE600 sewing & embroidery machine. If you are looking for an easy to learn starter machine, then definitely put this one on your list because it is very user friendly. Let's discuss this machine and it's features together.
Brother SE600 Sewing Machine Review
For those of you who are just getting started into sewing and learning how to embroider then you are going to find that this is a great starter machine. The Brother SE600 is also a good sewing & embroidery machine for when you need to upgrade from a more basic machine. 
Good Sewing Machine For Small Sewing Businesses & Etsy Shops
If you are looking for a good machine for your hobby, small business or Etsy shop you will find that this sewing machine has all of the features that you will need from making everything from embroidered fashion designs, pillow cases, totes and smaller items like doll clothes too.
Brother does offer many machines that are more advanced than this one but if you are just learning, then this will be a great machine to get started with without feeling overwhelmed.
Brother Sewing & Embroidery Machine SE600 Specifications
This machine has 103 built in stitches including 10 different buttonholes so you will get a good variety of stitches and options for your sewing projects.
Basic
Decorative
Heirloom
Embroidery Fonts
Elements like animals, florals, & holiday designs
Buttonholes
Large LCD Display For Choosing Your Sewing Designs & Elements
You can choose all of your elements and stitches on the large, full color LCD display. Customers are mentioning how easy & intuitive this is to learn once you get to know the machine.
On the display, you are going to be:
Adjusting your lettering
Choosing your fonts
Picking out your stitches
And there are built in tutorials that will help you navigate. There is also a USB port so you can import .PES files too. A .PES file is an embroidery file that's compatible with this machine.
The Brother SE600 Has A 4 Inch Embroidery Field
The embroidery field is 4x4 inches and this is great for smaller designs. You will find that this is going to be good for monograms and smaller intricate designs.
Brother does have a machine that has a 5x7 embroidery field if you are looking for a larger designs space. That is the Brother SE1900 which is also sold on Amazon.
Check Prices For Brother SE1900
This Sewing Machine Will Stitch Through Most Fabrics Easily
This sewing & embroidery machine will sew through thin and heavier fabrics. There are different settings depending on what fabric you will be using. All of the information about fabric settings are in the manual that is included. With the proper settings set, you will be able to sew everything from cotton canvas to more delicate & stretchy fabrics.
Automatic Needle Threader
The Brother SE600 has an automatic needle threader so that's going to take any frustration away when you are threading your needle. We all know how frustrating that can be sometimes.
There Are 7 Sewing Feet Included
Zigzag
Overcasting. This is the foot to use for finishing off the piece to prevent fraying.
Monogramming
Zipper
Blind Stitch. This is the foot to use to hide stitches.
Buttonhole
Button
Helpful Extras That Come With The Brother SE600
There is a backlit LCD display which helps you see your selections clearly and that's great when you are working in low light conditions. The thread cutter makes cutting thread super easy. You can easily change the speed with the slide control right on the front of the machine.
WATCH THE BROTHER SE600 REVIEW VIDEO
Here's a Pin to save to your sewing boards
MORE HELPFUL ARTICLES
Leave a comment
Comments will be approved before showing up.